All parents will tell you the same amazing things about having a baby. The joy of a new life, all of the first moments and new discoveries are so much fun, and double the fun if you happen to have twins! Along with the good, there is inevitably the not so good that comes from having two little ones to cart around whether its twins or a toddler and a newborn. It can be tough to keep it all together without losing your mind.
Stroller designers today seem to have a lot of the kinks worked out for busy parents who do a lot of outings with the kids. There are a variety of different body styles and endless features available on double strollers that can often adjust and grow with your families needs. Gone are the days of heavy and awkward strollers that were more of a hassle just to get set up or packed in the car, than they were convenient for the kids. Lightweight materials and clever designs is the trend today along with comfort and ease of transport for busy parents.
Being able to get the kids out of the house is essential for most families, especially if you want to keep your sanity, but without the proper equipment, the hassle can be more than it's worth. There is a safe double stroller for just about everything these days. Whether you have twins or two toddlers there are options that are just right for you. If you like to jog, go camping or hiking or even just enjoy the joys of city living with some shopping at the mall, the newest adaptable pushchairs have just about everything you need to make your trip easier. Except maybe an extra set of hands.
Features to Consider in Good Double Strollers
Stroller manufacturers are taking account of the busy lifestyles of modern families and are reflecting those changes in their new designs and endless configuration options that are available in many products. Having products available that truly reflect the struggle that is parenthood is a huge advantage for twin parents that already have their hands full.
With so many options on the market today, it can be a tall task to figure out exactly what type of stroller that will meet your needs. While you are shopping around, try to keep a few of these basics in mind to help you narrow down your choices.
How often do you anticipate using your double stroller?
What amount of room do you have in your vehicle for storage?
What types of outings are you typically planning?
Price range?
Warranty available?
With so many options to mull over, the average parents of two little ones doesn't have the time or energy to do hours of research online to find out all the details about various products. We have done some of the leg work for you busy mommies and daddies below by reviewing 10 of the best double strollers in 2022.
Top 10 Best Double Strollers for Your Family 2023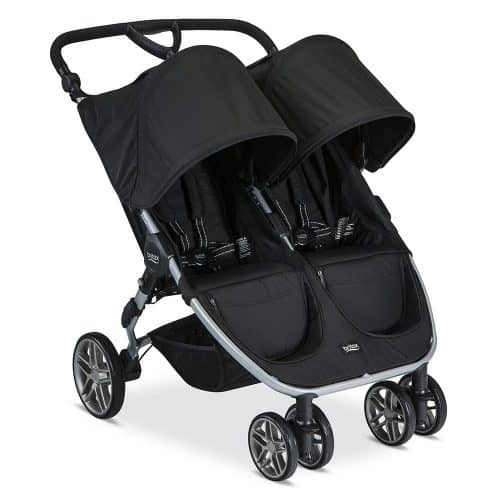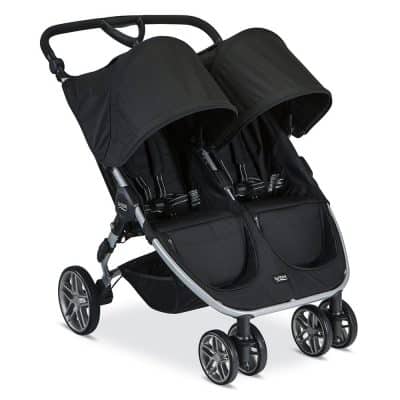 Why we like it:
Rigid simple frame that will last, large storage bin, and great maneuverability.
Editor's Rating:
Design
This fixed seat stroller from Britax is built with durable and lightweight aluminum making it easy to handle and lift while folded for quick storage without the strain. All suspension front wheels and large rear tires make this model a dream to maneuver with only a gentle push. The hand parking brake is connected to both rear wheels to provide extra safety while stopping.
The convenient Click & Go adapter works with the Britax Chaperone or any B-Safe car seat models to make the transition from vehicle to stroller quick and simple. Once the kids are a bit older you can feel safe securing them with a 5 point harness that has a one-touch release that allows you to lift the child out with ease and a minimum of fuss.
Features
Each seat has its own independant and adjustable sun and rain canopy with a peek a boo window in the rear so that parents can keep an eye on the action at all times. Fabrics made from woven nylon blended materials provide a comfortable and durable ride that is easy to clean up with a quick wipe down.
This pushchair features a quick fold down system and an auto lock to keep it all in place while storing. It also comes with a towing and lifting handle loop for lifting up into the car. There is no need to worry about accidental damage while folding this unit as it stands balanced on its own after collapsing.
There is plenty of storage in the undercarriage sling for all of your bags, toys and personal items. Each seat has its own slot pocket in the back for additional storage if needed. The push arm is fully adjustable to three heights so that parents are comfortable even during those longer trips.
Specifications
Weighs: 12.7 kg
2 Color choices: Red or Black
Birth to 27 kg weight limit
Open: 77.5cm x 100cm x 101cm
Closed: 77cm x 33cm x 77.5cm
Pros
Double front suspension

High quality fabrics

Quick fold down system
Cons
Mid/high level pricing

One configuration only

Not all car seats are compatible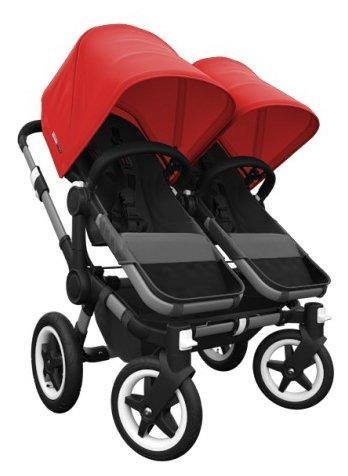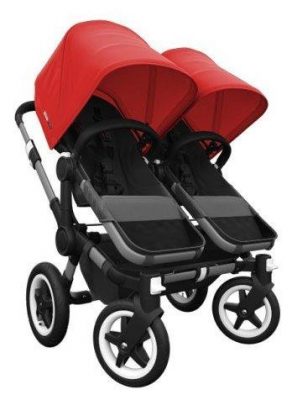 Why we like it:
Oversized wheels = comfort ride, grows with the kid, and one Hand pushing.
Editor's Rating:
Design
This versatile Bugaboo stroller is designed to grow with your family. Whether you have one child, twins or a toddler and a baby, this is the solution for you. With only a few easy clicks, it can transform from a single pushcart to a tandem double and back again.
Compatible with almost all car seat brands, you can configure the seats to either face you, face forward or have the kids face each other for a neat ride for everyone.
Features
The oversized wheels are all individually suspended to provide tight turning and easy maneuvering. The slim design allows you to go through any doorway or tight space without the fear of getting stuck. The tyres are made from expandable foam and are safe for any type of surface without damage.
Each seat has a removable and adjustable SPF 50+ canopy to keep the tender skin of your little ones safe from the heat and harmful sunlight. The seats sit higher than average on this stroller to lift your kids higher towards you for optimal interaction experiences.
Safety Aspects
The aluminum chassis is light as air and provides ample under carriage storage for all your baby travelling needs. The adjustable height push handle moves with just a click and houses a hand release wheel brake for quick access when stopping.
If you are thinking about expanding your family, this is a great choice that will grow with your needs. The 5-point quick release harness system and available attachable arm bar will keep your precious cargo safe and in place no matter where your travels take you.
Specifications
Weighs: 15.3 kgs
Birth to 16kg per seat
Colors:Red/Black
Open: 92cm x 74cm x 24cm
Closed: 91cm x 60cm x 24cm
Pros
Ample storage room

Numerous configuration styles

High seat position
Cons
High end pricing

Changing settings can be tough

Slightly heavier model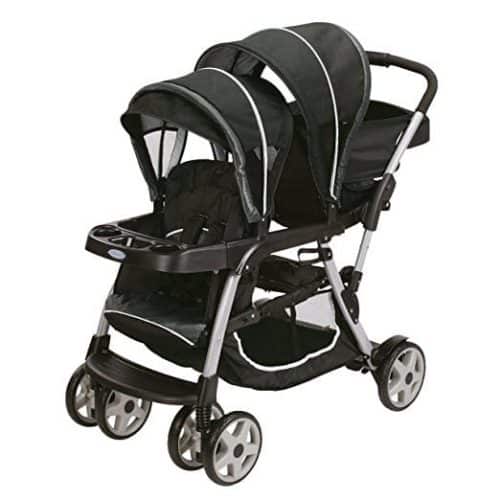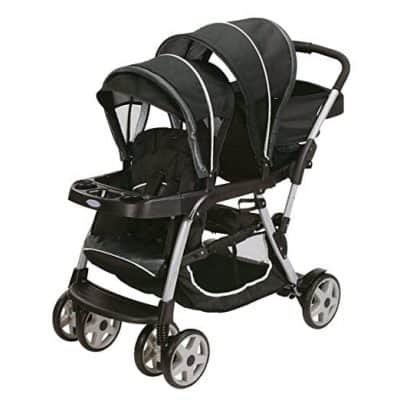 Why we like it:
Multiple available configurations, snack & drink tray, and huge baggage storage.
Editor's Rating:
Design
This unique double Graco stroller accepts two Graco SnugRide Click Connect Infant Car Seats with one click making it a dream for transporting twins. This is one of the most versatile models available with 12 different configuration positions to move and comfortably accommodate a growing family.
The removable and adjustable rear Facetime seat allows for the parents to have more interaction with infants right in front of you only a touch away. The rear seat can be taken out as your kids grow and replaced with a mounted Access Bench or Standing Platform for older kids to ride. Both seats are fully reclinable for sleeping babies or toddlers to get some rest in the best and most comfortable position.
Features
Each stroller comes with adjustable sun canopies, a removable kid tray that holds toys, snacks or drinking cups to eliminate spilling and to keep the kids safe and in place. The front seat is equipped with a gently padded 5 point locking security harness with a quick release latch.
This lightweight model moves like a dream with only one hand navigation on an aluminum frame with fully suspended double front wheel movement. The front double lock holds this unit in place safely whenever you need to stop.
Packing up and storing away couldn't be easier with the one hand collapsing folding mechanism that allows you to quickly stowe your stroller in a flash without any fuss. The push arm has four comfort pushing positions to adapt to any height and the extra large under carriage storage in roomy enough for all of your packages and bags.
Specifications
Weighs: 15 kgs
Colors:Black/grey
Front Seat: Up to 22 kgs
Rear Seat: Up to 18 kgs
Open: 107cm x 60cm x 114 cm
Closed: 53cm x 133cm x 60cm
Pros
One hand folding

Grows with family

Double wheel locks
Cons
Mid-weight chassis

Only takes Graco car seats

Padded harness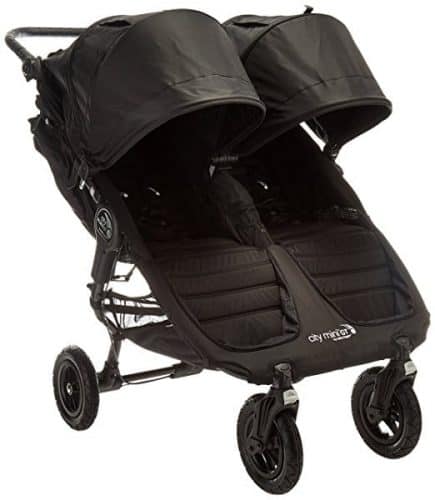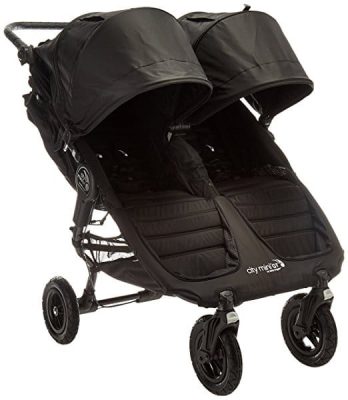 Why we like it:
Quick set up and fold down, moves like a dream, and fully padded seats.
Editor's Rating:
Design
This aluminum framed lightweight side by side Toddler Jogger stroller is ideal for the growing family. It easily fits through doorways allowing you to go anywhere without a hassle.
The plush padded seats are reclinable to four different positions and both have the 5-point fast release safety harness to keep the kids in place.
The generous SPF 50+ canopies are independently adjustable and have a removable back mesh panel for increased air flow. The top back see through windows allow parents to keep a close eye on the action without stopping. There is lots of storage underneath the carriage in the durable and breathable stow away area large enough for all of baby's toys and bags.
Performance
The pivoting fully suspended front tires move effortlessly on most terrain and the Toddler Jogger Mini stroller can often be pushed with just one hand. The front wheel lock works on both wheels for a secure stopping position.
With the patented Quick-Fold technology it only takes one hand and a fraction of a moment to get things packed up and ready to go. This independently standing folded stroller is compact enough to fit into smaller vehicles or storage compartments.
Specifications
Weighs: 13 kgs
Colors:Slate grey, black, red, blue
Safe from birth to 45kgs combined
Open: 123cm x 110.5cm x 76.5cm
Pros
Easy and quick folding

Large sun safe canopies

Double locking wheels
Cons
Heavy

Face forward only

Not a lot of storage space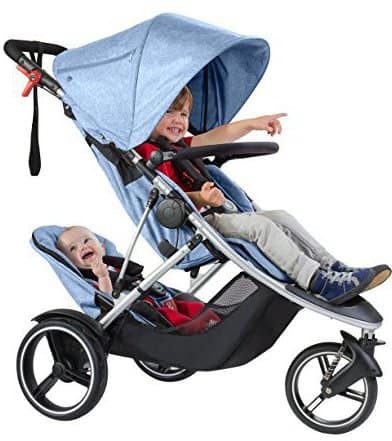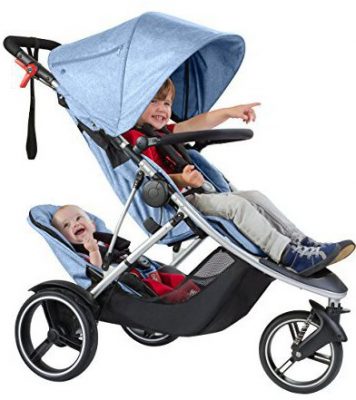 Why we like it:
Very lightweight, several configuration options, and fits any car seat.
Editor's Rating:
Design
This stroller from Phil & Ted's is great for the family on the go. With it's ultra lightweight framing and unique 4 option set up it it perfect for your growing and changing needs.
The bottom seat can accommodate any car seat for an infant facing forward or you can have a car seat up top for a single stroller option. The super large front seat has multi reclining positions including a lay-flat option for napping comfort. The seats can be positioned in tandem facing the world or facing the parents for extra interaction time.
Features
With one click, this Inline Phil & Teds stroller can be folded up and remain free standing while you get the kids unpacked with no worries. The single front wheel provided outstanding maneuverability and the oversized tyres are made from Aeromax Puncture Proof materials so there is no terrain that it can't handle.
Important features include the padded 5 point padded harness system in the front seat as well as an extra large oversized canopy for maximum protection for the kids. There is also included back screening that keeps the bugs out while still letting parents keep an eye on things with ease. The front seat has a flip out leg support for older children and the canopy has specially designed side pockets that have a unique headphone jack for listening to your favourite tunes.
Specifications
Weighs: 11.5 kgs
Colors:Grey/blue or grey/pink
Safe from birth to 20 kgs
Open: 64cm x 114cm x 150cm
Pros
Lots of storage

Loads of special features

Large canopy coverage
Cons
Twin seating could be crowded

20kg weight limit

light colors can show wear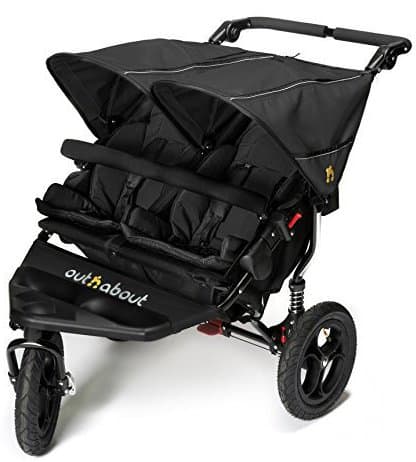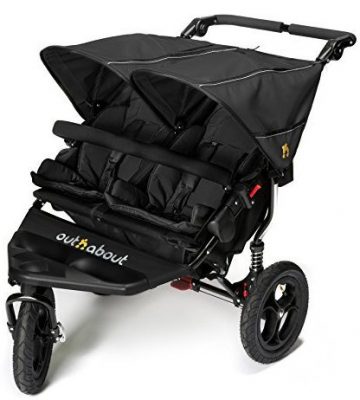 Why we like it:
Super light and compact, puncture proof tires, and wheel release for storing.
Editor's Rating:
Design
This double jogger stroller from Out N' About is ideal for for an active lifestyle with your children. Whether you are a regular runner or just trying to keep in shape after a pregnancy, it can move with you like a dream.
The 16" swivel front wheel can rotate 360 degrees for ultimate ease of movement. Each of the pneumatic tires is puncture proof and suitable for nearly any type of surface in the city or off road. The rear wheels have independent suspension to ensure tight handling. There is a convenient hand brake on the push bar which is also completely adjustable to your optimum height.
Features
The comfortable padded seat liners are removable for easy cleaning and come with a 5 point quick release harness. The large sun canopies are retractable and each has a large storage pouch on the side for personal items.
This stroller is made for an active lifestyle and will grow and adjust right along with your children. Both seats are separately reclineable to a fully flat position for sleeping. A liftable arm bar keeps little ones snuggly in place and safe on your travels.
The narrow design allows you to go anywhere you need to including through standard doorways where you once may have had trouble with older larger models. The one click folding system keeps your hands free and makes for quick set up, fold down and storage. The wheels also have a quick release feature allowing you to remove them for a less bulky storage option.
Specifications
Weighs: 11.5 kgs
Colors:Black, Lime, Red, Blue, Purple
Safe from birth to 22 kgs per seat
Open: 72cm x 98cm x 137cm
Closed: 72cm x 63cm x 98cm
Pros
Lightweight

Great maneuverability

Comfortable seating
Cons
Forward facing only

no car seat option

bulky when closed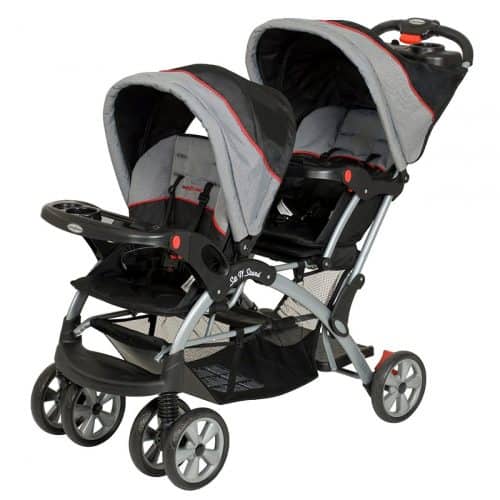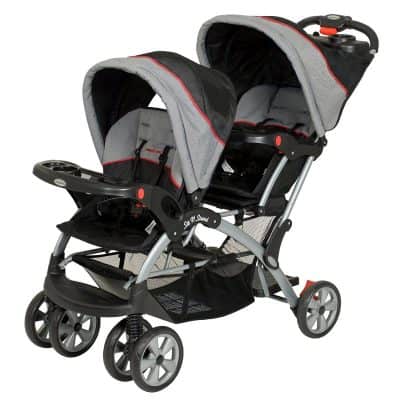 Why we like it:
Many configurations, can accommodate older kids, and one hand folding.
Editor's Rating:
Design
This durable aluminum framed Toddler Trend stroller is ideal for families with infants, toddlers or even twins. This model is accepting of many varieties of car seats and the rear seat is removable to allow older children to ride on the platform if they choose.
Seats can be adjusted to either have a world view or be parenting facing for more face time interaction. Independently adjustable from a straight upright position to fully laying down, both children can be comfortable at any time.
Performance
The double swivel front wheels offer premium handling and a smooth ride often only needing to be pushed with one hand. Both seats come with swing away tray and cup holders for snack and toys. Even the parents have a removable parent organizer in the rear with cup holders and spots for phones and keys.
Features
The breathable fabric seat covers are removable for easy cleaning and made from durable nylon and polyester fabrics in various colour combinations to suit any family. The under the seat large storage area and hanging basket has plenty of room for all of your babies essentials as well as packages or personal belongings.
Using a patented fold away design, this stroller is capable of one hand break down and stands securely on its own when collapsed. The narrow design allows it to fit easily into smaller vehicle spaces and storage closets with ease. The tandem style allows you to fit through any standard doorway or other small spaces like restaurants, department stores or escalators without a problem. Your family will be able to use this Sit & Stand Toddler Trend Stroller for years as your kids grow from infants right up to young children.
Specifications
Weighs: 15.4 kgs
Colors:Black, Lime, Purple, Grey
Safe from birth to 36 mths
Open: 54cm x 125cm x 109cm
Pros
Narrow design

Multiple seating options

Removable seat liners
Cons
Heavy

Too many moving parts

Bulky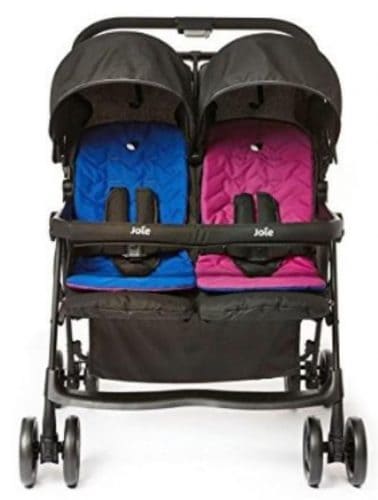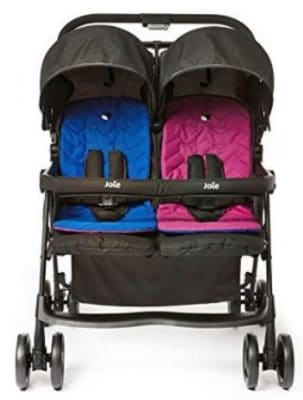 Why we like it:
Medium range price, quick and easy set up, and great for quick trips with no fuss.
Editor's Rating:
Design
This lightweight Joie Aire stroller is constructed on a sturdy aluminum chassis making it easy to handle and carry. It features individual side by side seats that are each fully adjustable depending on the most comfortable position for each child. Each seat comes with a easy to clean reversible seat liner in your choice of black, pink or blue. The seat covers are made of a nylon/cotton blended fabric making it not only easy to clean up spills and stains, but breathable next to a younsters soft skin.
Perfomance
Both front and rear wheels have full suspension giving it a tight turning radius and a smooth ride that can be directed using only one hand. It's slim design makes it capable of fitting easily through any standard door frame without any limits to where you can go with ease. There is a convenient single-step brake on the rear tires to make sure that the stroller stays securely in place when needed.
Features
The ultra light framing and construction allows for one handed folding and stands independently while closed. It folds flat for convenient and easy storage in almost any sized vehicle or closet. There is no need to fear with the parking lot struggles of the past with this quick and easy collapsible product that allows you to focus on the kids instead of the stroller.
Each seat has its own SPF 50+ sunscreen that are fully adjustable as well as retractable to protect little ones from the heat of the sun. At the rear of the hoods there is a see through window that allows the parent to keep on eyes on what's going on inside or to monitor sleeping babies.
Safety Aspects
There is great focus on keeping your kids safe with this stroller as it features padded 5 point safety harnesses on each seat as well as a retractable pivoting arm bar that will keep the kids in place and secure.
For Mom's and Dad's there is an adjustable push bar to fit each pusher comfortably with just one click. Store all of your shopping, diaper bags and personal items in the storage bin beneath the seats for easy access. There are also side storage pockets along each seat side for extra room.
Specifications
Weighs: 11.8 kg
Birth to 15kg per seat
Open: 80.5cm x 76cm x 102 cm
Closed: 78cm x 30.5cm x 98.5cm
Solid black. Pink/blue seat cover
Pros
Affordable

Easy to store

Stand alone folding system
Cons
Not a lot of storage space

Few configuration options

Limited color choices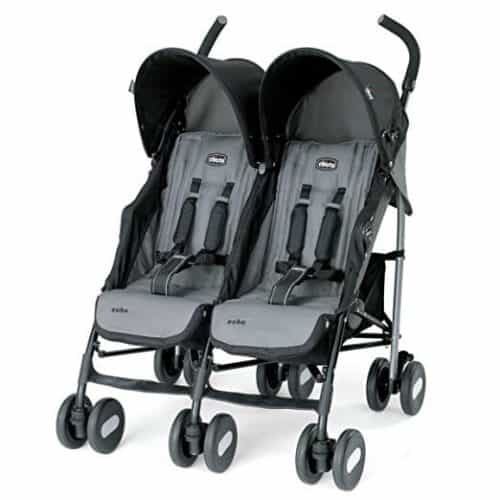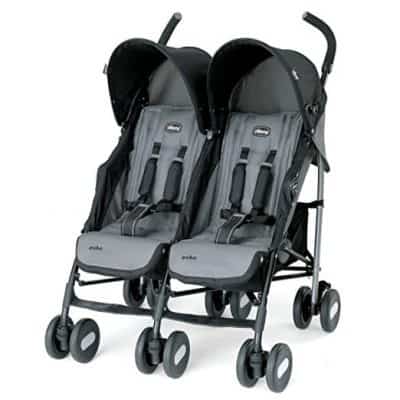 Why we like it:
Affordable for most families, lightweight aluminum chassis, and comes with rain cover.
Editor's Rating:
Design
This side by side stroller from Chicco folds down nice and small with a one touch action and comes with a easy pull carrying handle and included rain cover.
The two seperate canopies are both adjustable and have added rear canopy flaps that can zip off for extra air flow when necessary. Both seats have 4 adjustable positions from upright to laying flat for snoozing comfort. Padded leg rests are also adjustable to accommodate growing babies.
The removable seat covers are made of a durable mesh and nylon blend that are easy to clean spills from with some soapy water and a sponge. Also included is a roomy mesh carry basket beneath the carriage for lots of room for babies toys and diaper bags.
Features
The dual front wheels have independant locking suspension to make this stroller easy to handle with a tight turning radius. The five point harness keeps the kids safe and secure and released with just one touch for easy access.
The fold fast mechanism allows you to close up the Chicco Twin stroller with one hand and it will stand on its own once folded. Once closed the stroller is extremely compact making transport and storage easy for one person in any size vehicle.
Specifications
Weighs: 13.8 kgs
Colors:Charcoal
Safe from birth to 17 kgs
Open: 85cm x 78cm x 105.5cm
Closed: 104cm x 35.5cm x 38cm
Pros
Low/mid level pricing

Dual front locking

Extremely compact
Cons
Not for rough surface use

One color option

One seating configuration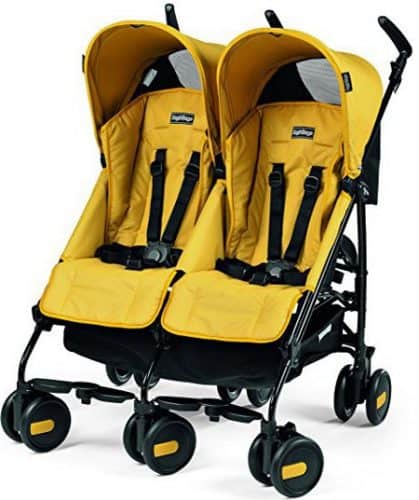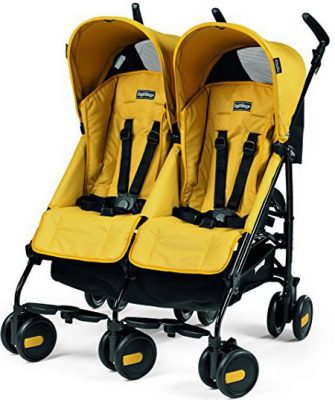 Why we like it:
Lightweight, lots of storage space, and adjustable foot rests.
Editor's Rating:
Design
This ultra light aluminum framed stroller from Pliko is great for the growing family. The quick fold mechanism comes with an integrated pull handle that helps the fold down with one hand. The handle can also be used for towing or lifting the folded stroller once it is in its free standing position.
Performance
The ball bearing front wheels offer swivel and straight mode for easy pushing that only requires one hand to keep things moving. The rear tire one step brake is connected to both sides giving this Peg Perego stroller secure and safe stopping power to keep your mind at ease.
Features
Both seats are separately adjustable to fit the comfort of each child depending on how they would like to sit. Both seats sport durable nylon/polyester fabrics that are removable to make clean up totally convenient. The weather hoods are both retractable and have nylon mess backings to keep the air flowing and allow for parents to be able to see their little ones at all times.
There is an extra large storage basket located under the carriage that is roomy enough to carry all of your families travel accessories. The individual push handles are all adjustable to accommodate the most comfortable height for each person.
As your children grow, the 5 point quick release safety harness systems can be fully expanded and remain secure. The foot rests also can be moved up or down to keep up with those growing legs and feet.
Specifications
Weighs: 11 kgs
Colors:Yellow, Pink, Black
Safe from 6 mths to 20 kgs per seat
Open: 85.5cm x 76.8cm x 102cm
Closed: 97cm x 53.5cm x 48cm
Pros
Quick setup and close

Great for airport/travel

Removable linings
Cons
No car seat option

Front facing only

Not for infants
Guide to Buying the Best Double Stroller
The thought of all of the infant and toddler equipment that your average household needs is enough to send any new or expecting parent into a panic. You want to make sure that whatever you purchase is of the best quality, at a price that won't break the bank and of course something with the very best safety ratings. It's no different when trying to choose a new double stroller.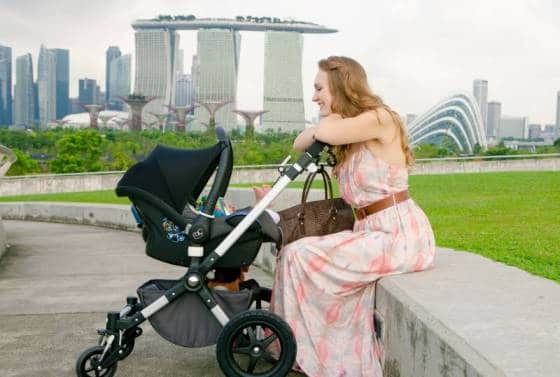 Whether you are shopping because you are expecting twins or because a second child is arriving shortly after your first, there can be a million questions running around in parents head about what is the right pushchair to choose.
There are many things to consider when shopping for a double stroller for your expanding family. Not only is this a piece of valuable equipment for getting your family out of the house, but it will be something that you will be using for years to come. It is important to know the basics to start.
Finding out what the different options are is a valuable tool when looking for the right match for your family and your lifestyle.
You should start by taking into consideration exactly what the family dynamic is as far as your children and what their needs will be over the next several years. If your kids are close together in age they could benefit from a totally different configuration design then say a stroller that is better for twins.
Thinking about what types of activities your family will be involved in is another important aspect of being able to narrow down your choices and deciding just exactly what is right for you. If you are short on space or travel frequently you may consider a more compact model that is better suited for tight spaces and for airport travel and flying. If you are an athletic and adventurous family, you may want to think about a sporty jogger style for your outings that will allow you to easily move around on any terrain.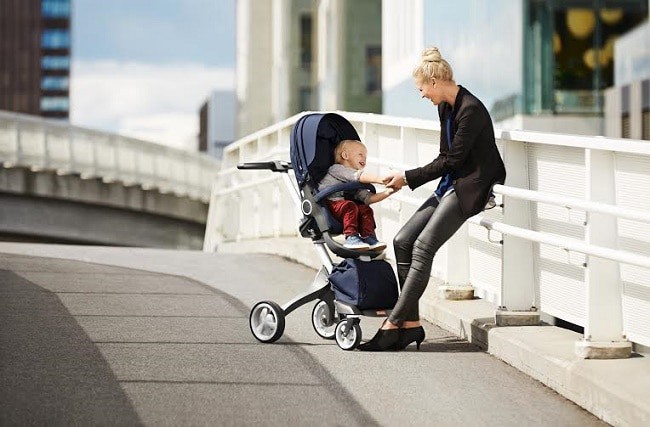 The most important thing is that you are aware of your options and don't feel pinned down to only a few choices. There are many stroller models that have done a great job of making their equipment adaptable with many different possible configuration and extras that will allow you to use just one stroller for several years.
As with any investment in your family, it is a big decision so you want to make sure that you have all the basic information at a glance to help you through this process. There are several different model styles that it is vital to know the differences between and what their strength are as it relates to what your family needs. Nearly every brand has endless add on accessories to make your product more adaptable, but let's just start with the basics to get you going. Buying a stroller can be an expensive task so it's important to get something that not only works for your family but also for your budget.
Side-by-Side Stroller
These models are ideal not only for twins but for two children that are close in age. Most designers have adopted a slimmer shape that eliminates some of the problems of the past like getting through doorways and smaller spaces.
Side by Side models generally have seating that can be individually adjusted to fit the comfort of each child, but rarely have the option to have the seats facing any direction except forward. Being able to have the kids sitting next to each other can be convenient and eliminate fighting over the "good spot" when they get a bit older.
These models are known to be easy to maneuver as well as able to be pushed lightly with just one hand. They offer larger storage areas under the carriage as well as tending to have canopies with slightly more coverage than the tandem models.
Tandem Strollers
With the tandem style stroller, the seats are either placed directly behind one another or in stadium style configuration. Most of these models do offer more options for seating configurations. You may have a choice of world facing, parent facing or the kids facing one another in your seating arrangement.
Because of the long length of these models, they are not as smooth and easy to maneuver around tight spaces. They are best for straighter stretches on the sidewalk or path as opposed to trying to move around in the shops. They do, however, give you a stroller that is the same width as a single model but with room for two which can be handy. The protective canopies are generally different sizes as well but still provide ample and safe coverage.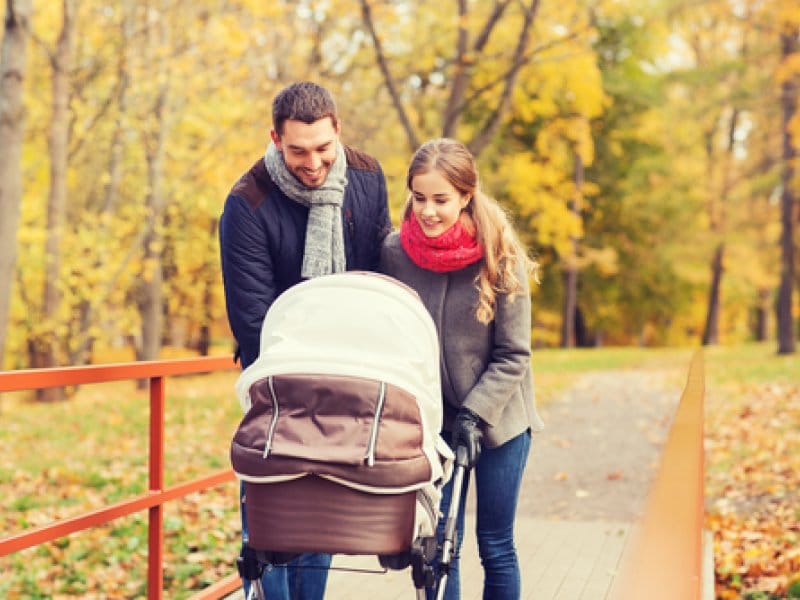 Tandems tend to weigh a bit more than the side by side models simply because of the different framing designs. Most brands come with an easy folding system that still makes it a breeze to fold up and store away with very little hassle.
Although some tandem strollers can accept two car seats, most models only accept one in the rear spot leaving the front seat available for a toddler.
Some models allow you to remove the rear seat completely and add on a riding platform so that an older child can stand in front of the parent to ride.
Double Umbrella Strollers
This is a compact and ultra light version of the larger Side by Side stroller version. It is ideally meant for travelling, flights and the odd quick trip to the shops. It folds down in one movement, and can fit into very limited spaces for storage. They are generally for light use and do not always support a toddler seat attachment.
All Terrain Heavy Duty Strollers
These models are recommended for families that are constantly on the go. If you anticipate using your stroller on a daily basis, it may be in your best interest to invest in this type of model that can really take a beating.j
You will generally find that these models come with larger wheel sizes, sturdy fabrics (although the colour range may be limited) and are have a heavier caliber framing chassis. If you are constantly on the go or you need something for different kinds of terrain, a heavier duty option may be more practical for you.
These strollers are a bit bulkier and heavier but still all collapse down to a much more manageable package for stowing away. There may not be as many available accessories or optional bells and whistles for these models, but they get the job done and they are definitely built to last.
Jogging Strollers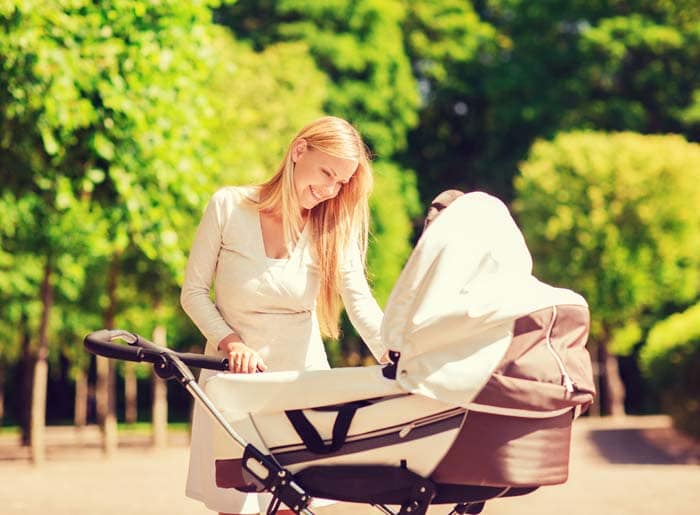 These strollers are a match made in heaven for the athletic parent or just regular mom's that are trying to get back into shape after a long nine month pregnancy. The frame style is similar to the side-by-side models with the seats next to each other,but this version is very slimmed down to the basics.
All the same safety features apply, but the extras are fairly limited. With larger puncture proof rear wheels and a single pivoting front wheel, they give the best in maneuverability and smooth riding.
These are great for the active parent,however, they rarely supply any storage rack or pockets so they are really only ideal for shorter trips or being out for a quick jog.