A standard stroller has a limited amount of space and weight it can carry. And when you need to go to a park, the beach, or any other place you set a playdate, you often need a little extra storage capacity. The last thing you want to worry about is where to put your kids' extra blankets or clothes. You don't want to walk around like a human coat-hanger pushing a heavy double stroller, only to arrive at your destination and remember you forgot something vital.
That's where a stroller wagon comes in: by changing up the format of a traditional stroller, you can add more storage space and keep seating for multiple children. Collapsible, lightweight, and with most of the features of conventional strollers, many parents are switching things up with this new style of kid transporter.
Selecting a Stroller Wagon
Choosing a stroller wagon over a regular stroller has its perks, but it is an investment nonetheless. There are certain features to look out for when you're spending money on a transportation device for your children. With safety and comfort being the prime objectives, you need to know all the specs of stroller wagons and then decide which one suits your lifestyle and family the best.
Let's take a short look at these features before elaborating on them in the full buyer's guide.
Weight Capacity
Stroller wagons are bigger than strollers, which means they also support more weight. But it is important to know just how much. You don't want it to fall apart on your way to the playground because you're lugging around one child too many.
Age Range
One thing you should know right off the bat is that stroller wagons are not suitable for newborns. The lack of seats and neck support means they're best used for children that can already stand on their own. You can use a stroller wagon once a child begins to walk: as young 18 months and as up to 5 years.
Type
You can choose from pull stroller wagons, which are more traditional, and push strollers, which are a newer breed of stroller wagons. Push strollers are a hybrid between regular strollers and traditional pull stroller wagons, and they are typically a bit more expensive.
Ease of Use
Good foldability is a feature that will cost you a pretty penny, as stroller wagons are bulky by nature. Another factor that's important? Maneuverability, as you could be putting some serious miles on the wagon. Depending on the type of stroller wagon you choose, everything from the wheels and all the way up to the handlebar has to be the right fit for you. A stroller wagon is meant to make your life easier, so it's not worth buying an item that you have trouble handling.
Comfort
The passengers also need to feel comfortable while riding in the stroller wagon, and typically wagons are a bit less plush than conventional strollers. Some stroller wagons have seats to improve child comfort. Due to a wagon's form factor, little ones will be more exposed to sun or rain in a stroller wagon than in a regular stroller. A canopy plays a big role, as it can both protect your child from the sun's ultraviolet rays and from rain.
Safety
All stroller wagons come with a seatbelt option, although the chances of an accident happening are slim. The material of the wheels is another important aspect. If you know you'll be doing most of your rides over rough terrain, look for durable rubber wheels that can take on uneven surfaces.
We scoured the internet for the best stroller wagons available at the moment. Taking into consideration all the features listed above, we included the best products ranging all across the price spectrum.
Top 10 Best Stroller Wagons 2023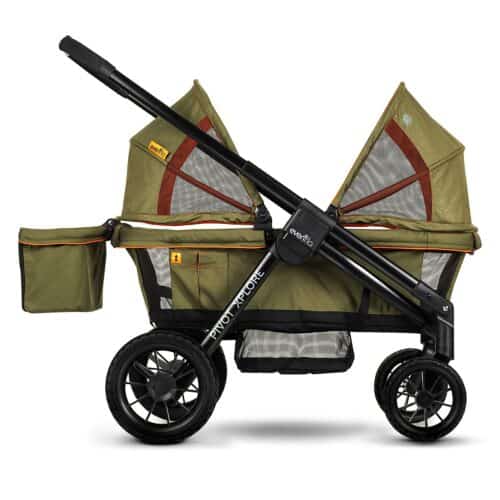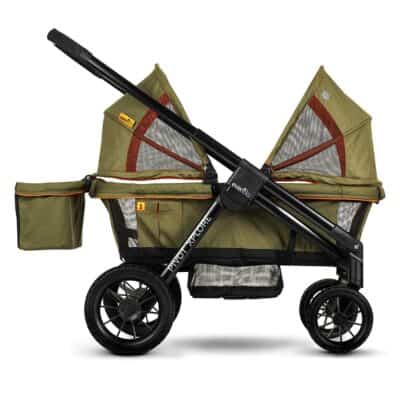 Why we like it:
Evenflo is a brand name that you may have seen on other lists for children's items. It handles any type of terrain and offers all the features that will come in handy on future trips.
Editor's Rating:
Quick Facts
Weight Capacity: 120 pounds, with each seat supporting 50 pounds
Age Range: 0-5 years
Foldable: Yes
Type
The Pivot Xplore All-Terrain Stroller Wagon is a hybrid push/pull stroller that looks very similar to a more-conventional double tandem stroller. It is suitable for two kids at a time. If you have an infant car seat, you can separately purchase a car seat adapter and, voilà, your little one can tag along.
Ease of Use
The switch between pulling and pushing the stroller wagon can be easily achieved by flipping the telescopic handle to the front or back. This effective rotating system is also efficient by saving space. It also has the neat feature of folding like a regular stroller. By holding down the release lever, the front and back parts collapse towards each other, from the middle point, while the handle remains folded up. Once folded, it can easily fit inside your car trunk, even with the all-terrain wheels still attached.
Comfort
The two adjustable canopies on this stroller wagon resemble the high-quality canopies found on regular strollers. The UPF 50+ material awnings prevent young passengers from getting sunburnt, and if you don't need them, you can just collapse them along the wagon's edges. Your little ones can sit comfortably by resting their feet on the built-in footwell.
Storage
You'll be hard-pressed to find a stroller wagon with a better storage organization. There are two stations in the middle, each with a cup holder and a long snack tray. These stations form a kids' table in the middle and don't take up any seating space. The outside mesh pockets of the stroller can support snacks and drinks for the parents as well. The biggest storage convenience is the roomy removable cargo basket. You can either attach it to the back exterior of the stroller wagon or place it on the inside.
Safety
Each seat is equipped with a 3-point harness system, as well as with extra padding to keep the kids snugly and safely inside. If you need to take a break, you can just press down on either of the brake pedals next to the hind wheels, with your foot.
Value
For such a high-end versatile stroller wagon, the price is towards the top of the mid-range, but it's well worth the money for such a comfortable and comprehensive stroller. The best part is that it can also be used as a double-stroller and has the option to be used as a travel system. It comes in three attractive color combinations to choose from.
Pros
Flippable push/pull handle

Folds down to a compact size

Suitable for car seat adapters and a second stroller seat

Adjustable UPF 50+ canopies

3-point harness safety system
Cons
Car seat adapter must be purchased separately

Does not come with a warranty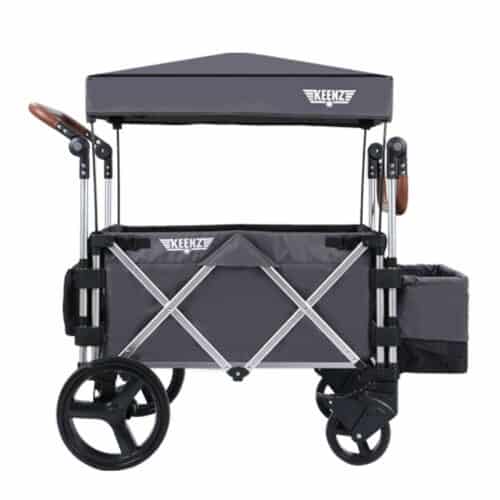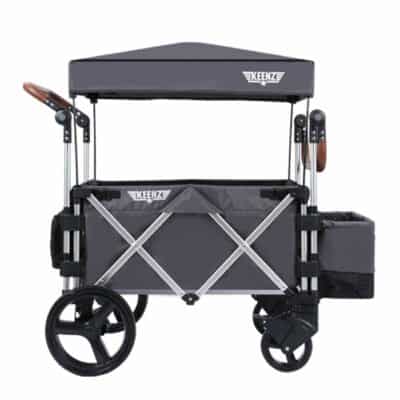 Why we like it:
If your little ones can already sit up on their own, the Keenz 7S stroller wagon is what they should look forward to as their first ride. This Korean company thought about every single need of children and parents and addresses them in this device.
Editor's Rating:
Quick Facts
Weight Capacity: 110 pounds
Age Range: 1 – 6 years
Foldable: Yes
Type
The Keenz 7S is both a push/pull hybrid stroller wagon. Aside from the differently sized wheels, the sleek symmetrical design makes this stroller wagon perfect for carrying around two children up to 45 pounds each.
Ease of Use
These symmetrical handles make the stroller wagon equally easy to push and pull from either side. Both handles are height adjustable, and whichever handle you don't use can be pushed down and locked into place out of the way. Every ride with this stroller wagon is a breeze thanks to the anti-shock material that the frame is made of, so neither you nor the passengers will feel discomfort over rough terrain. All-terrain wheels further aid in comfort and durability. You will need to switch the wheels with the provided extra pair of all-terrain sand wheels if you're planning a trip to the beach.
The material is easily washable and removable in case you need to clean it periodically. It folds down into a sort of shopping-cart shape which you can either pull along or fit into the trunk of your car. Due to the unusual angle of the front and back wheels, it's a bit challenging to carry around when folded. It does come with a protective cover, and the wheels can be locked to stay in place if you just need it to stay out of your way.
Comfort
There is plenty of room inside the stroller wagon, although there is no footwell, which means a slightly less comfortable ride for kids. While the canopy is large and protects the kids from sun or rain, it can impair the visibility of shorter parents due to its tall positioning. Good thing the canopy roof and side curtains are removable, in case you don't need them or your kids outgrow them. The bottom of the stroller wagon is flat, which is perfect for when your little ones want to nap on their way to the next fun adventure. Everything on the inside, from the seats and backrests to the sidewalls, is cushioned and there are no sharp edges.
Storage
There is plenty of storage space in the external storage basket which includes a cooler space and a built-in shoe storage basket underneath. The whole storage compartment can hold up to 20 pounds in weight. A cup holder is conveniently placed next to the handlebar, for parents to stay hydrated. If you need extra space for smaller items, you can place them in the console on the opposite sides, which includes additional mesh pockets and a zip pocket.
Safety
Not only is the Keenz 7S compliant with ASTM F-833 safety certification, but both seats have a softly-padded 5-point harness system instead of the usual 3-point harness, so your kids stay extra safe during their trip. The wheels can swivel or be locked into place to make straight-line travel easier with the simple push of a button. The stroller wagon can be parked by stepping down on the small brake pedal on the back wheels, and the front wheels each have individual brakes for extra stability. The wheels are made of durable rubber, so you don't need to worry about inflating them after riding over rough terrain.
Value
While the Keenz 7S is not the most affordable choice on our list, it comes with all the features that some other stroller wagons charge you extra for. It also looks great, coming in 4 color choices: black, grey, purple and green.
Pros
Adjustable handlebars on both sides

Effective braking system on both front and back wheels

5-point safety harness

Removable canopy and side curtains

Plenty of storage
Cons
Not cheap

Tall canopy can limit visibility

Could use a footwell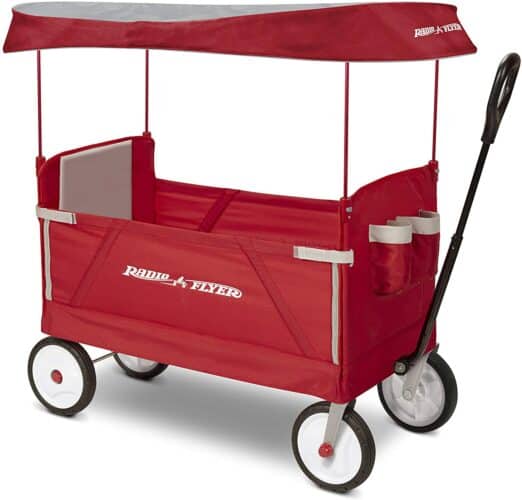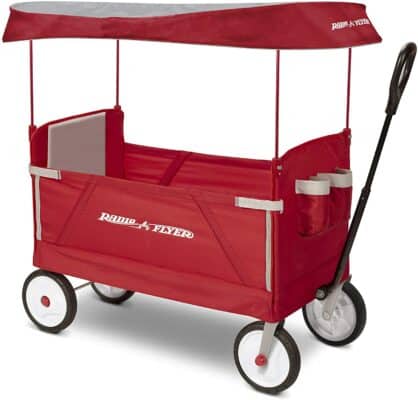 Why we like it:
The term "stroller wagon" instantly triggers the image of the cute, red design that we see in cartoons. This stroller wagon is the epitome of that definition. Besides looking cute, it is also practical and safe to use for two children or for carrying items to a park, beach, or amusement park.
Editor's Rating:
Quick Facts
Weight Capacity: 150 pounds
Age Range: 18 months – 5 years
Foldable: Yes
Type
The Radio Flyer 3-in-1 EZ Folding Wagon can be pushed or pulled thanks to its versatile handle. But you won't just be toting a regular stroller wagon around. It can serve as a regular 2-seat wagon, a bench seat, or a cargo hauler.
Ease of Use
The long telescopic handle makes this folding wagon easy to pull along. The round and narrow shape of the grip itself makes it a bit uncomfortable to push, and it can get even more challenging during turns, as the front wheels tend to get stuck. Fortunately, though, for stowing stroller wagon folds completely flat, and you only need to use one hand to collapse it. The canopy poles are telescopic, so when you need to remove the canopy and store the wagon away, they won't get in the way. Here is a video that demonstrates how easily the stroller wagon folds.
Comfort
If it's too hot outside, you don't need to worry, as the UV-blocking canopy will fully protect your little passengers from the sun. You can also purchase the version without the canopy, but the option of having constant shade is one of the main comfort features that make riding in a stroller wagon fun for kids. The silent quiet-ride tires are suitable for all types of terrain, which adds to the versatility of the 3-in-1 EZ Folding Wagon. The sidewall can be zipped down to prevent the children's feet from touching the wheels while they are using it as a comfortable bench seat.
Storage
On the side of the handle, there are two deep bottle holders where you can store drinks for the whole day in. The opposite side is enriched with a deep storage pocket that can fit the whole canopy or anything else similarly-sized.
Safety
This ASTM-certified stroller wagon has two padded seats for a snug fit while riding. While it may feel a bit flimsy while rolling over rougher surfaces, the strong metal frame ensures the safety of the passengers, as well as of the stroller wagon itself, and any additional cargo you may be carrying in it.
Value
One of the best features of the Radio Flyer 3-in-1 EZ Folding Wagon is its affordable price point. Other stroller wagons offer fewer features and cost up to 3 times as much. Additionally, the manufacturers also include a 2-year warranty in case of any damages.
Pros
Affordable

Can be used as bench seat, double stroller, wagon, or for hauling cargo

Cleans easily

Durable metal frame folds flat

Removable canopy
Cons
Feels unstable on off-road terrains

Front wheels get stuck when taking sharp turns

Handle is a bit short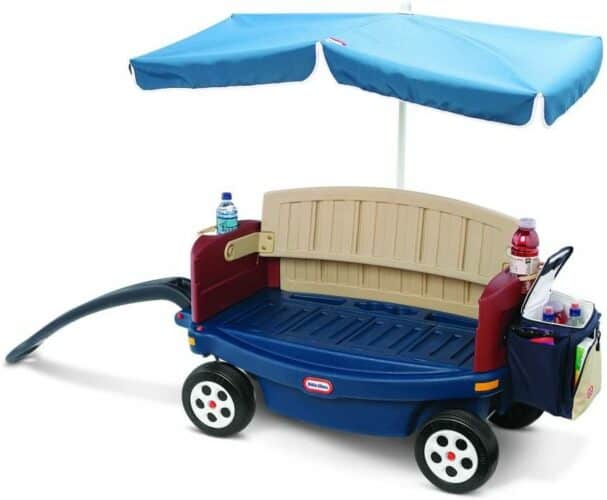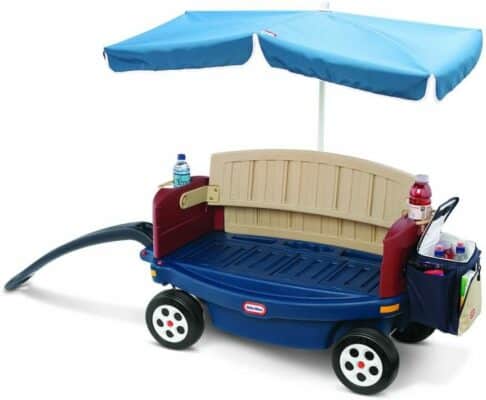 Why we like it:
Ever looked at a cute toy and wished there was a life-size version of it? Instead of belonging in a dollhouse, you can sport this cute stroller wagon around and attract all the attention on a fun day out. It also turns into a bench-style wagon and has the largest weight capacity on our list.
Editor's Rating:
Quick Facts
Weight Capacity: 250 pounds
Age Range: 18 months – 5 years
Foldable: No
Type
This wagon is made out of durable plastic and can only be pulled, not pushed. It can also turn into the cutest bench seat you have ever laid eyes on. If you just need to carry cargo in it, the sides come off and it can be used as a storage wagon, whether it be for a picnic or for home projects.
Ease of Use
Although the wheels are made of plastic, they are quiet when riding on smooth terrain. However, their material and the small size make them unsuitable for sand or rough surfaces. The handle is long enough and shaped so that it can be folded neatly under the wagon if you need it out of the way. Because the entire stroller wagon is made of hard plastic, it doesn't fold.
Comfort
This stroller wagon looks its best when it is used as a bench seat. One of the sides flips up to provide a taller backrest. The removable umbrella only attaches on one leg and is great for maintaining a small amount of shade, although it won't perform well under rainy conditions. The wheels are quiet, so you won't cause a ruckus anywhere you are pulling the stroller wagon along.
Storage
The Deluxe Ride and Relax Wagon has a very convenient and generously-sized attachable cooler. It can be placed on the inside of the wagon while you are pulling it along, and on the outside when your kids use it as a bench to relax. It also has two cup holders on each side, as well as two kids stations on the inside, each with an additional incorporated cup holder, making six cup holders in total. And that's not all: there is also a storage basket beneath the stroller wagon, in case you have any additional sports equipment, toys, or parenting supplies that you want to bring along.
Safety
Both seats have a seat belt, so you can safely pull your little ones along without worrying they might tip over. Once you turn it into a bench, with a weight capacity of 250 pounds, it can even support an adult and a child, plus additional cargo.
Value
The Little Tikes Deluxe Ride and Relax Wagon offers a great value for your money. Aside from not being foldable, it is a perfect stroller wagon with an impressive weight capacity. The manufacturers even include a 1-year warranty on the product.
Pros
Can be used as a stroller wagon, a bench seat, or for carrying items

Impressive 250-pounds weight capacity

Quiet-ride wheels

Several storage compartments and 6 cup holders

Cute design and color combination
Cons
Does not fold

Plastic wheels are small and not suitable for all-terrain

Umbrella not suitable for rain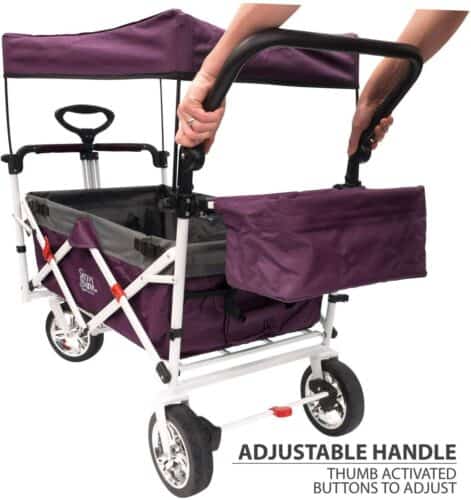 Why we like it:
Having a stroller wagon that caters to all your outdoor needs is important, as you never know what you'll need until the very moment you desperately do. This hybrid has it all, and folds up easily into a compact size when you need to transport or physically carry it to the beach.
Editor's Rating:
Quick Facts
Weight Capacity: 150 pounds
Age Range: 1 – 5 years
Foldable: Yes
Type
As the name suggests, this hybrid stroller wagon can be either pushed or pulled, and has a customized handle for each option. If you need to push it, adjust the position of the push handle to suit your height. In fact, you can even take it along for a jog, since the large rubber wheels and padded handle both allow accurate forward movement. If you prefer to pull it, use the telescopic handle on the opposite side, which is also height-adjustable and can be pushed down for a complete fold.
Ease of Use
Regardless if you push or pull the stroller wagon, it is easy to steer due to its 360-degree swiveling front wheels, which can also be locked into place. Their wide diameter makes them suitable for all-terrain, even sand, making movement easy even when fully loaded. If you need to stow the wagon away, it completely folds and takes up very little space. Here is a video on how to fold it up.
Comfort
The sun won't be a problem for your little ones when riding this stroller wagon. There is a large canopy that protects the passengers from both UV rays and rain. The canopy is removable for storage, good weather, or transport. You can also separately purchase such add-ons like a bug net, an insulated cold-weather cover, or an inflating cushion seat, improving utility and comfort for little ones.
Storage
The Creative Outdoor Distributor Push Pull Wagon has plenty of storage compartments. You can store the bulk of your items in the external removable storage basket. It also has a deep insulated bottle holder and two large zipper pockets on the side. If that's not enough, a zippered cooler or accessory tray can be separately purchased from the manufacturers.
Safety
The wagon is built from a strong steel frame. When you need to park the stroller wagon, the rear wheel axle has a linked braking system that operates with a foot pedal. Almost everything is padded or covered with mesh, which is easily washable and doesn't get dirty easily. Both seats have belts for your little ones to buckle up or to safely strap down the equipment you store inside.
Value
The value of this stroller is undeniable. It also comes with a 1-year warranty, and you can choose one of 3 color combination options.
Pros
360-degree swivel wheels

UV protecting removable canopy

Folds easily in a space-saving size

Plenty of storage

Can be used as jogging double stroller
Cons
The wheels may become faulty in time, from making turns too often

No footwell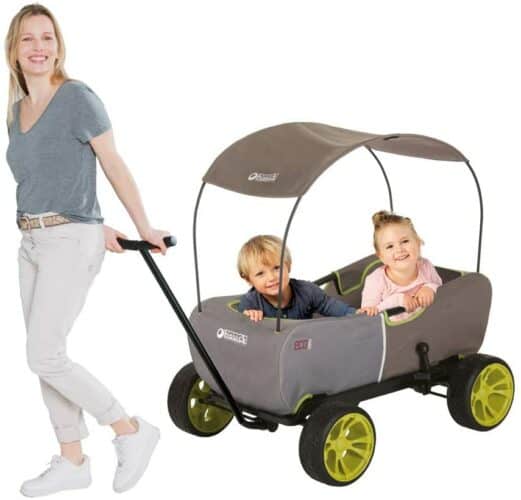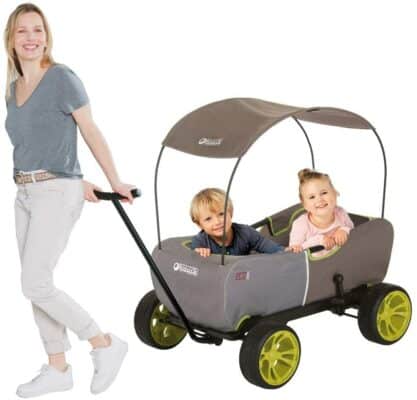 Why we like it:
This cute little wagon looks like a vehicle from The Jetsons, and even feels like it is gliding thanks to the all-terrain rubber wheels. It is short enough to be maneuverable.
Editor's Rating:
Quick Facts
Weight Capacity: 110 pounds
Age Range: 2 – 5 years
Foldable: Yes
Type
This wagon can only be pulled, as it doesn't have the necessary safety features to also serve as a stroller hybrid. You can also use it to carry around equipment for a long day at the beach, in a park, or just a quick walk.
Ease of Use
The Hauck Eco Wagon Stroller is easy to maneuver as the jumbo wheels are made of EVA rubber with two sets of bearings inside each wheel to ensure smooth traction. They are suitable for any type of surface and turn seamlessly. It folds up easily, but not as compact as one would hope. Rather, you can take the steel frame, wheels, and canopy apart. It can fit in a regular-sized trunk, but taking it apart and putting it back together takes longer than other stroller wagons.
Comfort
Both seats and the bottom of the stroller wagon are padded, ensuring comfort for the kids while they're riding. If you are using the Hauck Eco to carry items, the padding on the seat is removable and easy to clean. The canopy is removable, and its arched position protects your little ones from the sun from more angles. Unfortunately, the canopy isn't effective enough when it comes to rain protection. If you're looking for something a little more water-resistant, the Radio Flyer is a good pick.
Storage
The Hauck Eco Stroller Wagon is a mobile storage unit in itself. It doesn't have any cup holders, additional side pockets, or place to attach a separate storage basket. But if you are riding with one kid and still need the rest of the wagon space for additional items like toys or sports equipment, the 110 pounds it supports can accommodate a single child and a day's worth of supplies.
Safety
The wide wheels are made of a long-lasting rubber material that makes them suitable for all-terrain. Since this stroller wagon larger kids that can already sit unattended, the seats have no seat belts. Whenever you need to stop the stroller wagon, there is a big brake lever located near the hind wheels that you can simply pull to hold it in place. If you're looking for smaller seats, check out this wagon from Creative Outdoor.
Value
The Hauck Eco Stroller Wagon is not the most affordable wagon on the list, which may come as a surprise considering how many features it is missing. It does come in a fun grey and forest green color combination.
Pros
Suitable for all-terrain

Wide wheels ensure smooth maneuverability

Padding on seats is removable and washable

Arched and short canopy ensures more sun protection and wider visibility for the parent
Cons
Seats do not have seat belts

Canopy does not protect from rain

No storage compartments or cup holders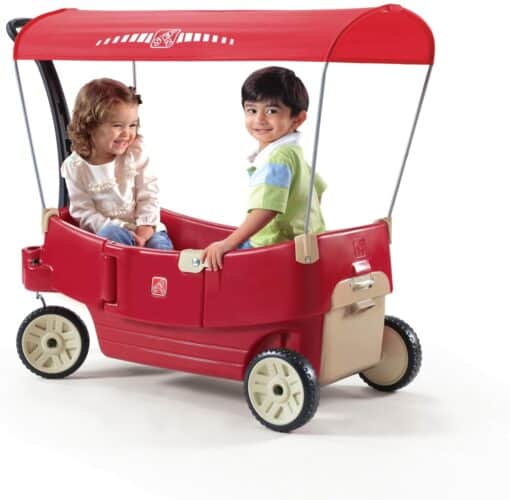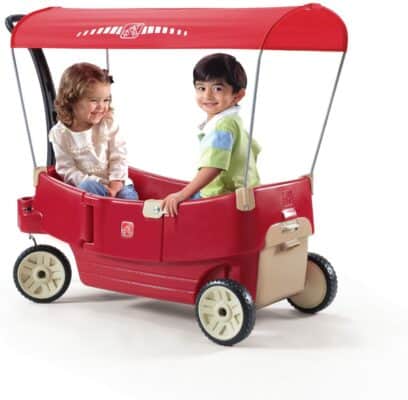 Why we like it:
If you like the classic red stroller wagon look, you should consider the Step2 All Around Canopy Wagon. It looks like a cute railroad car or a boat on wheels, and it even has a little door children can enter and exit through.
Editor's Rating:
Quick Facts
Weight Capacity: 75 pounds
Age Range: 18 months – 4 years
Foldable: No
Type
This stroller wagon moves by being pulled, with no forward-pushing stroller functionality. You can also use it as a means to transport sports or picnic equipment, as the seats flip forward to create a flat surface on the inside.
Ease of Use
Besides the canopy and the foldable handle, the stroller wagon does not fold, and is challenging to put together. However, it is a bit smaller than other wagons, which means it can at least fit easily inside the trunk of an S.U.V. The wheels are relatively small and made of plastic, so they won't really handle off-road terrain.
Comfort
The wheels are quiet as a mouse when you pull the stroller wagon across smooth surfaces. The protective sun canopy is especially large and has an all-around shape. It covers the whole surface of the stroller wagon from all possible angles, protecting little ones from rain and sun.
Storage
There are a total of 6 cup and snack holders spread across all corners of the stroller wagon. There is also a roomy storage trunk in the back that you can close shut after storing toys or personal belongings inside. Additional storage room can be found underneath the seats.
Safety
Both seats have seat belts, so that kids can safely stay inside the All Around Canopy Wagon. There is also a door that opens and closes via a push lever. The manufacturers advertise the stroller wagon as suitable for kids aged five and up, but since the weight capacity is only 75 pounds, we don't encourage use with multiple kids over three years old.
Value
The Step2 All Around Canopy Wagon is very affordable. It is not cheaply made either as the materials are very sturdy. They're so confident in the product that the manufacturers include a 3-year warranty in the price.
Pros
Affordable

Big all-around canopy

6 cup holders and a storage trunk

Has seat belts and a little door to keep the little ones safe

Quiet wheels
Cons
Does not fold

Not suitable for off-road

Small weight capacity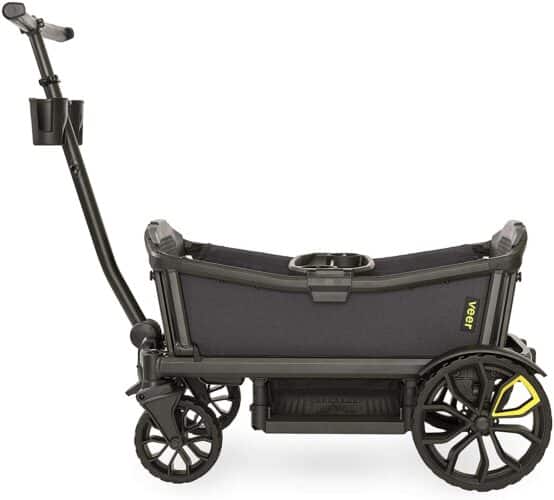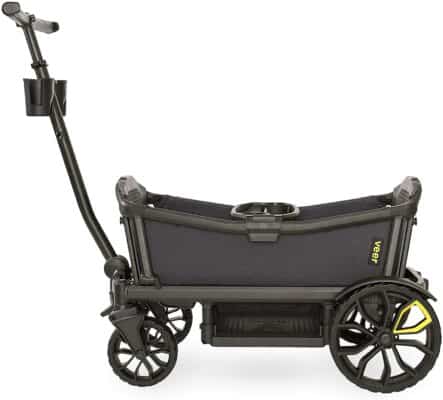 Why we like it:
Veer is a household brand that never fails to deliver the best items on the toddler stroller market. If you have two children of different ages, this ergonomic hybrid is the cream of the crop for stroller wagons. It checks all the boxes regarding safety, comfort, and ease of use.
Editor's Rating:
Quick Facts
Weight Capacity: 110 pounds
Age Range: 0 – 5+ years
Foldable: Yes
Type
The Veer Cruiser Premium is a hybrid stroller wagon that can be both pushed or pulled. It can serve as a pushable double stroller for kids of the same or different ages, as well as a wagon that kids or adults can pull. It is also suitable for most brands of infant car seats if you buy a seat adapter separately. With the car seat attached, there is still plenty of space for a second child.
Ease of Use
The stroller can be compactly folded by pulling the foot well upward, allowing the seats and sides to fold down. Then you can just pop it in your car trunk and still have space left (especially if you also remove the wheels). We like the convenience factor added that it also self-stands when folded. At 32.5 pounds, it is not impossible to physically carry around, considering stroller wagons are heavier than regular strollers, but it's not light either.
The telescopic handle makes the stroller wagon easy to adjust to your height, so whether you are 4'11 or 6'10, you'll have no problem pushing or pulling it around. Once you find the perfect angle, it locks into place. The materials on the Veer Cruiser Premium are stain and water-resistant, so they won't fade or get dirty easily.
Comfort
Your little ones will feel comfortable riding in the stroller wagon thanks to the soft fabric on the side walls and the breathable rubber seatbacks. Children have maximum visibility due to the side walls being short. The feet rest between the breathable mesh sides on the footwell, and dirt stays on the rubber bottom, which gets cleaned easily. The downside is when the hot sun rays start beaming down your passengers, as the canopy is not included, but luckily one can be purchased separately.
Storage
For adults, there are 2 cup holders that can be attached to 6 different places on the stroller. The little ones can enjoy their drinks out of the two center snack trays that also have built-in cup holders. The sides of the wagon are webbed so you can fit in other small accessories you may need on your trip. For additional storage room, you can purchase a removable storage basket that attaches to the back of the stroller wagon. This is somewhat of a downer, as the Veer Cruiser Premium is already among the most expensive stroller wagons, so another extra purchase adds up.
Safety
This stroller wagon is not only JPMA-approved, but also meets ASTM standards for total safety. Due to its sturdy, aluminum frame, and rubber no-air tires, the stroller wagon glides gracefully on smooth and rough surfaces alike. The wheels can also be used on sand, so the stroller wagon is great to take to the beach as well. The front wheels swivel and have a great suspension, ensuring the ride is smooth. If you want to park the Veer Cruiser Premium, you just press down on the brake pedal with your foot. If you don't need something for off-road use, this model from Step2 could be a great option.
Value
The best stroller wagon on the market offers much that a buyer could wish for, but is also priced accordingly. While it may lack some features that can be purchased separately, the safety and comfort this stroller wagon offers are exceptional. Veer even includes a 2-year warranty on the product.
Pros
Can be pushed or pulled

Easy to maneuver and fold

Suitable for all-terrain, thanks to airless wheels and good suspension

Suitable for car seats and children of different ages

Plenty of cup holders and side pockets
Cons
Expensive

Canopy, storage basket, and other accessories sold separately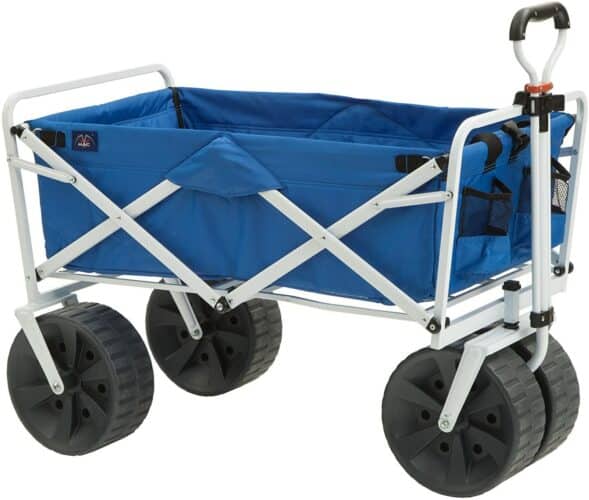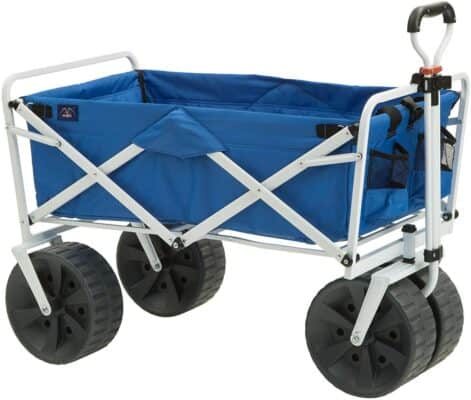 Why we like it:
This cute, big-wheeled wagon is perfect for heading out to the beach for a fun day in the sun. You can store all your equipment and personal belongings while you're out, and it folds nicely to fit inside the trunk of any car.
Editor's Rating:
Quick Facts
Weight Capacity: 150 pounds
Age Range: More for cargo than for kids
Foldable: Yes
Type
The primary use of this pull-wagon is to carry gear, groceries, equipment, and anything in between, whether it be on a beach or on your way back from Costco. You can also carry a child inside but there are no seats or seat belts.
Ease of Use
The handle is telescopic and height-adjustable, so it will be a breeze to pull the wagon along. The wheels are large and can handle the softest of sandy surfaces. You can throw in any beach toys since the fabric is super easy to clean. Once you are done with it, it folds like an accordion and can fit in your trunk, under your bed, or even on a larger garage shelf.
Comfort
There are not many comfort issues for passengers as it is not really designed to tote kids around. Instead, the telescopic handle, big wheels, and accordion-style packability offer good cargo-carrying ability. For a few more dollars, you can also opt for the version with a foldable table, that also has 2 cup holders and a space for your phone.
Storage
There are no additional storage compartments on this wagon. The inside can carry up to 150 pounds on solid ground and 50 pounds on deep sand. The fabric won't get affected by dirt, so think of it as the biggest and most comfortable mobile storage container that you can bring along.
Safety
The wagon is very durable thanks to its heavy-duty steel frame. The fabric won't easily rip, as it is made of 600D polyester.
Value
For a wagon that doesn't really transport children, it is quite a hefty investment. But for a cargo-hauling device, it is quite convenient and includes a custom carry bag for easier transport. Both this version and the one with the foldable table are available in black or blue.
Pros
All-terrain wheels, including deep sand

Durable build with impermeable fabric

Adjustable handle

Compact fold
Cons
Not designed to carry children

No other comfort features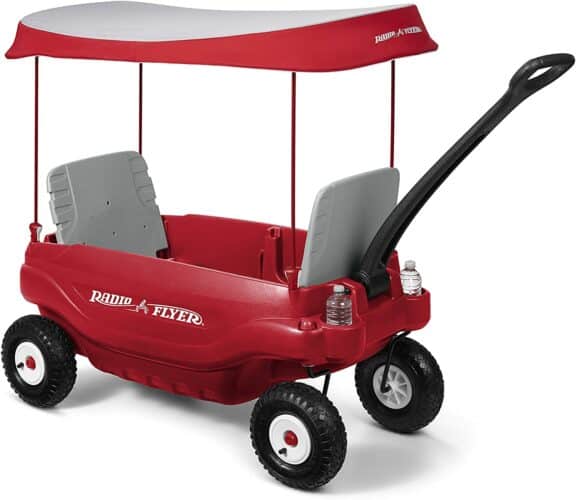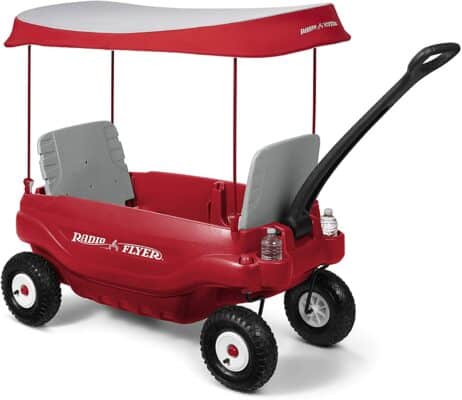 Why we like it:
Radio Flyer delivers the cutest classic-styled red wagons, this time increasing the weight capacity and providing an all-terrain option for little ones. The hard plastic exterior makes it a safe option to carry up to 2 children or fill it up with everything necessary for a fun picnic.
Editor's Rating:
Quick Facts
Weight Capacity: 200 pounds
Age Range: 18 months – 5 years
Foldable: No
Type
This is a pull-type stroller wagon. Not only can it be used as a storage unit on wheels, to carry one or two children, but it can even be turned into an activity table. It can even be used just for storage and carry around camping equipment. This means your child can comfortably sit with a small, adjustable table tray on his lap and play with toys, draw, or even eat.
Ease of Use
The Radio Flyer Deluxe All-terrain Family Wagon can be taken on any trip you plan out, thanks to its all-terrain wheels. The tires have a 10-inch diameter and are inflatable, so make sure you bring an inflating pump along. Also keep in mind that this stroller wagon does not fold, and neither does the handle, but the canopy is removable for easier transportation. A nice folding option is the Radio Flyer 3-In-1 EZ Folding Wagon with Canopy.
Comfort
This stroller wagon has a tall UV-protection canopy that prevents the wagon and its passengers from getting hot or rained on. There is also a footwell so your little ones don't feel crammed inside while enjoying the surroundings. A 200-pound weight limit means it can even accommodate slightly older children.
Storage
There are 4 cup holders on the handlebar side, perfect for storing sippy cups or larger beverage bottles. The lack of additional storage compartments is not an issue, as the Deluxe All-terrain Family Wagon has five combinations that enable storage space:
Two children sitting across from one another, each with a backrest
One child sitting, with the other half used as storage space, separated by a folding seat
One child sitting with a folding seat placed over his lap as a table, the rest of the space remaining open for storing other items
One child sitting comfortably with more legroom, with the other seat compartment being folded down
Folding down both backrests to use the wagon exclusively for carrying equipment
Safety
If you have one or two passengers inside, you don't have to worry about them tipping over, as both seats have a 3-point harness seat belt each. The hard exterior plastic material is durable enough to safely carry around the 200-pound weight capacity, whether there are children inside or not.
Value
This stroller wagon is priced just below a mid-range product of its category. You get a wide spectrum of versatility for this price, a classic design that will never go out of style, and a 2-year warranty.
Pros
UV-protective sun canopy

Each seat has a 3-point harness system

Wheels are all-terrain

Five ways to use the stroller wagon

200-pound weight capacity
Cons
Not foldable

Tires are filled with air, so you may need to bring a pump and inflate them occasionally

Handle does not fold underneath the wagon
A Guide to Choosing the Best Stroller Wagon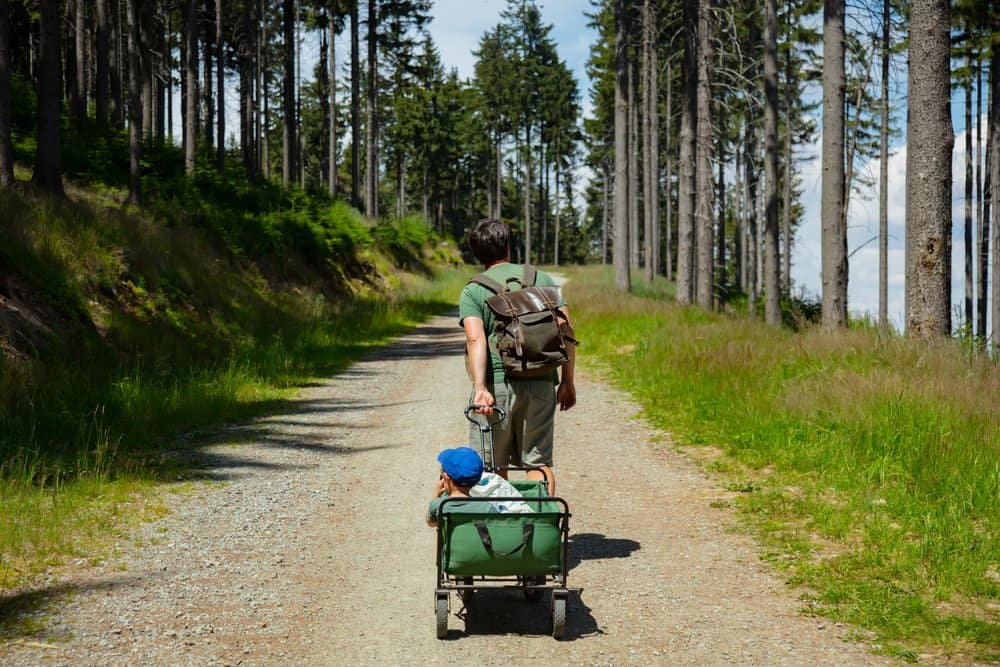 Your babies are growing up, and the baby gadget market is evolving as fast as they are. Everything looks cute and useful, but your wallet can only take so much. It is important to know exactly what to look for in a stroller wagon so that when you invest, you know you're spending wisely.
Weight Capacity
After all, it is a wagon, so weight capacity is an important factor to consider with what exactly (or who exactly) you will be hauling. If you need it to tote two older or differently-aged children around, plus additional equipment, consider a larger weight capacity, such as this stroller. Most other strollers can support two kids, and others are primarily designed to haul cargo.
Age Range
Most stroller wagons are designed for kids who can already stand on their own. They are often used as a natural progression of a regular stroller, so the minimum age is somewhere over 1.5 years. Depending on the weight capacity and how quickly the children grow in size, a stroller wagon is usually suitable till the age of 5 or more. If you can't wait to go on adventures with your newborn, some strollers can accommodate young babies as well.
Type
Stroller wagons can either be push/pull hybrids, or classic pull-wagons. The hybrid type is more versatile but is usually more expensive. You can still find good hybrid stroller wagons that won't stress your wallet as much as others in their category. Traditional pull-wagons are either made of metal frames with fabrics, wood, or plastic. Some stroller wagons even have the option of attaching an infant car seat to them, so you don't have to push a stroller with each arm.
Ease of Use
Sure, the comfort of your little passengers is important. But since you will be doing all of the work, you are just as entitled to benefit from a convenient stroller wagon as they are. The comfort in maneuvering a stroller wagon usually relies on the size, wheels, handle, and foldability.
No matter how bulky, look for a stroller wagon with rubber wheels that have a 360-degree swivel option. As these usually also have a good suspension system, they will enable you to make smooth turns. Regardless if you push or pull, you won't feel like the wagon might tip over or give passengers a rough ride. Stroller wagons with all-terrain wheels are suitable for any sort of rough or messy surfaces, even sand, when you find yourself carrying equipment on the beach.
The handle of a stroller wagon is supposed to be comfortable for the wrists in case you are pushing it, so if you opt for a hybrid, make sure the handlebar is padded and height-adjustable. The best pull-wagons have a telescopic handle that can also be folded under when you need to stow the wagon away.
Folding is another important feature if you know you won't just be pushing or pulling it everywhere you go or if you have limited storage space in your house. Stroller wagons are not as light as regular strollers, but some that weigh around 30 pounds can still be carried. The most compact stroller wagons fold easily and come in a small, compact size that fits in the trunk of a car.
Comfort
Since stroller wagons are usually used for outside activities, a canopy can make or break your day. To avoid nasty sunburns, it is important to keep them in the shade. Most stroller wagons have a removable canopy that is UV-ray protective, and in most cases, is also rain-repellent. While inside, the kids need to feel comfortable, so look for a stroller wagon with as much padding on the seats as possible, and for a footwell, so they don't feel too crammed.
Storage also plays an important role, since you always need as many items on hand for those long days at the beach or in the park. Cup holders are a must, so some stroller wagons have as many as 6, while others just have one. Although stroller wagons can be used as portable storage units themselves, some have incorporated or removable storage baskets, which are really helpful.
Table trays can be found on some stroller wagons, which are great for keeping the little ones busy to play with toys or just rest their hands. Other extra comfort features like bug nets, coolers, or rain protective covers can be purchased separately by the manufacturer of your chosen stroller wagon.
Safety
All the stroller wagons on our list are JPMA-approved, some even benefiting from additional ASTM certification. This means that they meet the necessary safety standards to function without you worrying about them falling apart too easily or exposing your children to danger. Some stroller wagons are big enough and suitable for kids who prefer to stand, so they don't have a seat design. Others that also accommodate younger toddlers have 3-point or even 5-point harness systems, as well as padded seats. Harness systems are also good for encouraging kids to buckle up when riding in cars as they age.
Depending on what surfaces you use it on, the wheels should have a swivel option, as well as a lever to make them stay in place, when riding on rough terrain. A foot-operated brake system is also effective, and it doesn't hurt if you opt for one that is flip-flop friendly. Most of the strollers on our list come with a 2-year warranty, which means you have plenty of time to grow accustomed to it and notify the manufacturers if it doesn't live up to your safety standards.
Frequently Asked Questions on Stroller Wagons
With the popularity of more conventional designs of strollers, stroller wagons can feel like a slightly uncommon departure from other types of child transport. Check out some of parents' most common questions on the product below:
What Are the Benefits of Owning a Stroller Wagon?
There are many ways that make a stroller wagon a natural evolution to a stroller. Here is a video of how a day out with a stroller wagon can look like.
Stroller wagons can hold at least two children, so there is much more storage room in case you need to be out with your little one(s) for longer periods of time. As opposed to regular strollers, most stroller wagons can accommodate children up to 6 years old, so you won't have to worry about purchasing a new and bigger stroller each year. Kids tend to outgrow strollers fairly quickly, but they still get tired when they're out and about. A stroller wagon is as cool for them as it is comfortable for you.
Some stroller wagons have such a cute design that kids can't help being encouraged to play outdoors and overt their eyes from electronic gadgets, in favor of some fresh air and good use of their energy and imagination. By pushing or pulling the stroller wagon themselves, kids also benefit from a good workout, which is indicated for their growing bodies.
Can a Stroller Wagon Accommodate More Than Two Kids?
Depending on the weight capacity, a regular stroller wagon can accommodate three kids. However, none of the three passengers will sit comfortably, as most already have a 2-seat design with seatbelts. If they find a way to fit and you opt for a stroller with at least a 150-pound weight capacity, a 3-passenger ride can be achieved. There are some strollers that are designed to accommodate four children, like the Wonderfold X4 4-Passenger Pull/Push Quad Stroller Wagon.
Will a Stroller Wagon Be Permitted on Flights
Stroller wagons are growing increasingly popular, so more parents want to take them onboard instead of regular strollers. The answer comes down to the weight and size of the folded stroller wagon. If it can fit in an overhead compartment, airlines will usually treat a stroller wagon like a regular stroller. If you are planning on flying with it often, make sure you opt for a foldable model instead of a hard plastic one.
Are Stroller Wagons Allowed at Disney-Themed Amusement Parks?
Not anymore. They used to be allowed at Disneyland and Disney World before May 1st of 2019. Although they were widely used as of that date, now only regular strollers are allowed in Disney-themed amusement parks.
Strolling Into the Sunset
A stroller wagon is a fantastic alternative to traditional strollers that allows parents to move both children and vital parenting supplies at the same time. If you're looking for an alternative to the common strollers seen everywhere today, a stroller wagon can provide unique benefits and solve a common parenting woe: getting kids where they need to be.