A getaway with your baby is a lot more enjoyable with the right travel stroller. A good travel stroller is lightweight, portable, and has plenty of room for your toddler and all the essentials you need to carry. But there are so many options available that parents tend to be overwhelmed by the number of choices when shopping for a travel stroller of their own. To solve this problem, we reviewed every travel stroller we could find to help you find the best travel stroller to buy for your toddler in 2021.
Features to Consider in Good Travel Strollers
Depending on the kinds of trips they intend to take, families have different priorities when shopping for travel strollers. There are also a wide variety of options available, depending on your price range and needs. Here are the factors you should consider before settling on a stroller of your own.
Size and Weight of the Stroller
Everyday strollers are bulky, but a travel stroller is smaller and lightweight. If you are looking forward to traveling light, a small-sized stroller which folds compactly will do the trick. Many travel strollers are even small enough to fit in the trunk of your car or in the overhead compartment of an airplane. Light and compact strollers are easy to maneuver through doors and other tight spaces.
Foldability
How easy is it to fold down the stroller? You may need to fold a stroller multiple times on a trip, and if it is not straightforward, it will get on your nerves quickly. The convenience of a quick-folding stroller is especially important when you are traveling alone or have several kids to watch at the same time.
Wheels and Shocks
It is a good idea to have an idea of what kinds of terrain you will be using the stroller on. Wheels with thick treads are ideal if you are traveling across rough terrain, but unless the stroller includes suspension of some kind they might make the ride a bit rougher than it needs to be.
Pneumatic wheels that are filled with air and foam-filled wheels are robust and can handle rough terrain, while shocks and suspension systems provide a less bumpy ride. They make navigation in rural areas easier so you won't be lifting the stroller every few meters.
Safety
As every parent knows, one of the most important considerations when looking at a stroller is its safety features. Not only will the general build quality matter here, but features like straps and brakes are also great for keeping your toddler safe and your mind at ease. Though not absolutely necessary to prove a stroller is safe, many of the products we recommend are certified by the Juvenile Product Manufacterers Association (JMPA), which ensures that they have passed a variety of safety standards.
Additional Features
Some strollers are equipped with special added features like reclining seats. A reclining stroller will come in handy during nap time, as they offer a comfortable sleeping position. This will allow you to stay out longer when traveling as your child naps. Strollers that recline are bulkier, but this is a necessary feature for many parents. Other features include adjustable footrests, larger canopies that keep babies safe from harmful UV rays, and storage for keeping essentials at hand.
Top 10 Best Travel Strollers 2023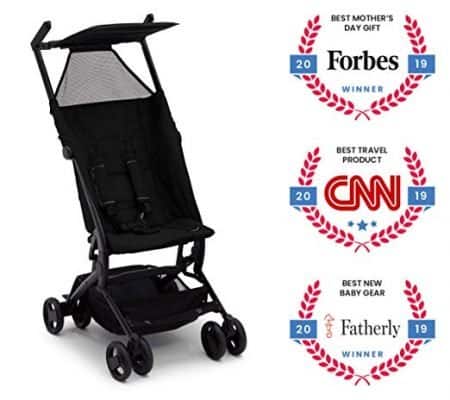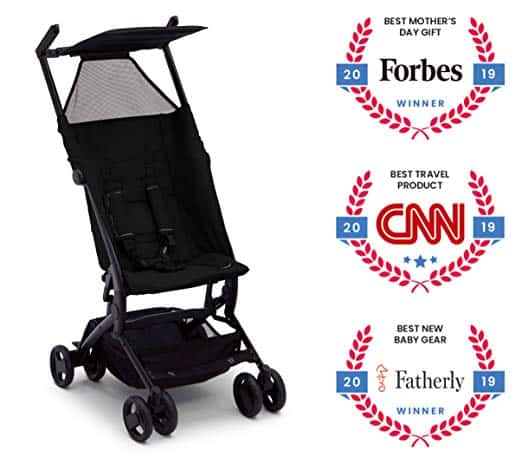 Why we like it:
The Delta Children stroller has a simple design, but this ultra-lightweight travel stroller packs a lot of punch. It is easy to get your child in and out of, and is our top overall pick for day trips, long road trips, mass transit, and airplanes.
Editor's Rating:
Weight Limit: 50 lbs
Assembled Dimensions: 29.5"L x 18.5"W x 39.8.1"H
Folded Dimensions: 15"L x 5.9"W x 19.7"H
Performance Features
Delta Children has a reputation for developing products that are of high quality and ensure the ultimate safety. Their products have been trusted by parents for years, and this model is no different. Despite being so lightweight, the model actually feels stable and could withstand years of use. It is recommended for children up to 50 pounds, an impressive feat for a stroller that weighs less than 12 pounds itself.
The stroller is shipped with a travel bag that it will fit into when folded down into a very sleek, compact design. Its spacious storage basket lets you free up your hands so you can focus on pushing the stroller, and reflective shoulder straps keep you and your child safe when traveling at night.
Travel Convenience Features
The stroller is built like it was actually designed by parents. It is very lightweight and easy to transport. The front swivel wheels with suspension make for a smooth ride and since it weighs so little it is easier to maneuver around tight spaces. It will help make any adventure safe and hassle-free, not to mention comfortable for the little one.
Safety
This JMPA-certified Delta Children stroller includes a five-point safety harness to keep your child inside even while traversing the bumpiest of terrain, and it's sturdy frame shouldn't ever give out. There are even reflective shoulder pads to increase nighttime visibility, and a sun canopy to protect their skin—though it's a little smaller than we'd like.
Verdict
The Delta Children lightweight travel stroller has been acknowledged by prestigious publications like Forbes and CNN for its high quality, ergonometric design. It is one of the best travel strollers on the market.
Pros
Very lightweight, as it weighs under 12 lbs.

Compact, able to fold into a travel bag

5 point safety harness is top-notch

Reflective pads to keep you and your child safe

Travel bag included with purchase

Storage compartment in the undercarriage for essentials
Cons
Not the greatest sun canopy design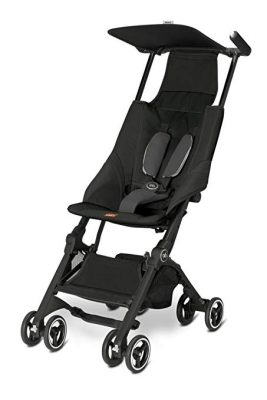 Why we like it:
A great pick for parents who fly constantly, the gb Pockit Lightweight Stroller Is the most compact full-featured travel stroller on our list.
Editor's Rating:
Weight Limit: 55 lbs
Assembled Dimensions: 28" x 18.5" x 39.8"
Folded Dimensions: 11.8" x 7" x 13.8"
Performance Features
The gb Pockit stroller is a revolutionary product. It is the lightest and most compact full-featured stroller that we reviewed. The stroller is extraordinarily light, at 9.5 pounds, and can fold down to just 13.8 inches. It is dependable for air travel since the stroller can easily fit onto a plane's overhead compartment.
Folding System
The model uses a two-step folding system which means you can be up and going in seconds. It can fit in an oversized travel bag, and the small size allows for squeezing a few more items into the trunk of your car when venturing on long road trips.
Functional Features
The frame of the gb Pockit is built with strong aluminum and other premium materials. It has a capacity of 55 pounds, which allows for a wide age group to use the stroller. The gb Pockit can support up to 11 pounds of gear in the bottom basket, making it even more practical for day trips.The padded handlebars can be controlled with one hand, making the stroller incredibly easy to use.
Safety
Your child will always get secured in the seat with the adjustable harness system, which also includes a safety belt. The comfort pads provide a cozy fit since they can be tightened or loosened accordingly. The adjustable frame prevents you from stumbling over it while you walk because it adjusts to multiple positions: simply adjust it to your torso and you are in for an enjoyable, stress-free walk. The parking brake and lockable wheels ensure that your stroller will only go where you want it to go.
Verdict
gb presents innovative features in an utterly affordable model. You will be happy with the design alongside the many functional features that make air travel a breeze.
Pros
Small size yet robust to accommodate up to 55 lbs.

The secure safety belt is adjustable

One-hand steering

Sturdy aluminum frame

Wheel parking brake

Padded handlebars

360-degrees swivel wheels that are lockable
Cons
More expensive than other travel strollers we reviewed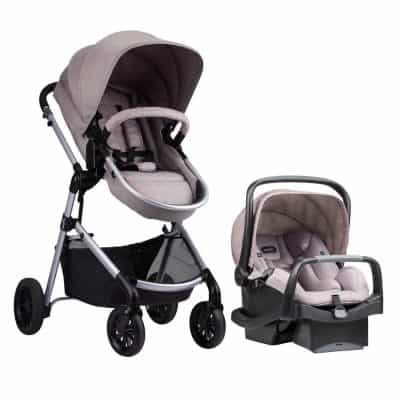 Why we like it:
Thanks to its modular frame with six different configurations, the Evenflo Pivot Modular Travel System is our favorite multi-purpose travel system for infants.
Editor's Rating:
Weight Limit: 35 lbs
Assembled Dimensions: 19.8" x 21.7" x 34.3"
Folded Dimensions: 10.5" x 18" x 24"
Performance Features
With its unique and roomy design, the Evenflo Pivot Travel System feels like several different strollers in one. The carriage mode allows parents to easily pick up and remove their babies without unbuckling them. Each configuration can be set up to be front or rear-facing.
The stroller glides well thanks to the cruiser tires and the front swivel wheels give the stroller excellent maneuverability. The compact size also makes this stroller a great choice for a day at the amusement park. With a 50-pound weight limit, this stroller is appropriate for use for toddlers, but some parents say that the seat is a little cramped for bigger riders.
Travel Convenience Features
The Evenflo Pivot Modular Travel System features the most versatile travel stroller we reviewed. It is very easy to transition the stroller between carriage, travel system, and frame modes. We especially liked the integrated lock system, making it easy to secure the seat in either the car base or stroller.
Safety
The included infant car seat features an anti-rebound bar that protects the passenger from sudden impacts, and the secure connections ensure that the stroller stays together no matter which configuration its in. The canopy helps protect your little one from the sun, too. It's been tested far in excess of all federal stroller crash standards, and should even keep your toddler safe in the event of side impacts and rollovers.
Verdict
The Evenflo Pivot Modular system is a premium option for traveling with an infant, but parents with older kids may find themselves leaving this stroller at home.
Pros
Six different configuration options including a unique carriage mode

Compact design with lots of storage

Impact-resistant

One of the safest strollers on the market.
Cons
Can be too cramped for larger toddlers

More expensive than other options we reviewed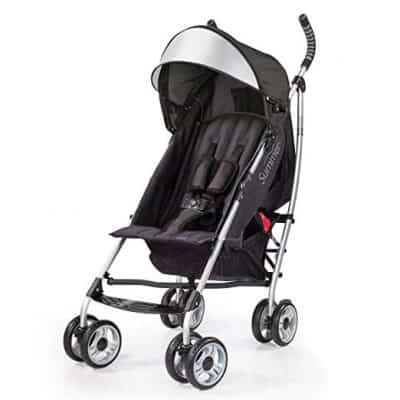 Why we like it:
Our top pick for parents looking for a great value, the Summer Infant 3D Lite is a high-quality travel stroller with lots of features
Editor's Rating:
Weight Limit: 50 lbs
Assembled Dimensions: 43" x 18" x 17"
Folded Dimensions: 42" x 14.75" x 12.5"
Performance Features
How would you like a travel stroller that is lightweight and durable at the same time? The Summer 3D Lite has done its homework in bringing parents a universal stroller. The stroller is constructed of aluminum, giving it a lightweight but sturdy frame. In fact, the stroller can accommodate a weight of up to 50 pounds. Some taller parents we spoke to told us that the stroller was too close to the ground for them to use comfortably.
Travel Convenience Features
The stroller provides a near-flat recline so that you can let your napping baby rest comfortably, allowing you to stay out in parks and enjoy the outdoors knowing your young one is comfortably sleeping. The Summer 3D Lite can fold in three easy steps. It's not the best folding system we have seen, but at least you won't be needing help when you have not brought your partner.
Safety
Though not JMPA certified, this stroller is packed with features to keep your toddler safe. The wheels are anti-shock so your child won't get jostled around, and lockable so that your stroller won't roll away. Also, it comes with an adjustable canopy that performs great in the sun. You can travel in hot climates, and the baby will not suffer any sunburn since it is rated to block 99.9% of UVB and UVA rays. The package is completed with a five-point safety harness that should keep even the most active toddler in place.
Verdict
Summer 3D Lite is for the parents who want a great travel stroller that doesn't break the bank. It is one of the lightest strollers that provide ample storage and folds compactly during travel.
Pros
Durable aluminum frame

Large storage basket

Blocks 99.9% of UVB and UVA rays

Includes the canopy, cup holder, carry strap, and 5-point safety harness

Front wheels have an anti-shock system

Rear wheels are lockable
Cons
Low to the ground so harder to bend over and reach for taller parents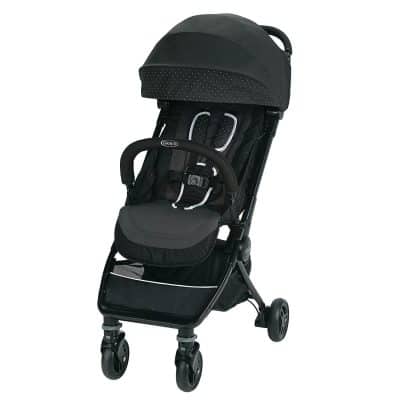 Why we like it:
One of the easiest strollers to fold up with only one hand, the Graco Jetsetter Stroller is a light travel stroller containing lots of features normally reserved for full-size strollers.
Editor's Rating:
Weight Limit: 50 lbs
Assembled Dimensions: 41.75"H x 20.38"W x 33.5"D
Folded Dimensions: 10.38"H x 20.38"W x 22.25"D
Performance Features
The Graco Jetsetter Stroller performs well in a wide variety of situations. The locking swivel wheels in the front of the stroller keep the stroller moving well across difficult surfaces like sand, gravel, and ice. With a weight limit of up to 50 pounds, the Jetsetter is appropriate for most children from birth to four years old.
Owners of Graco Quick Connect car seats can take the seats directly from the back seat of their cars and quickly snap it in place on the Jetsetter Stroller. This stroller is designed to grow with your child with adjustable calf support and a harness that expands as they grow larger. Unfortunately, the handlebar does not adjust so this stroller may not be comfortable for shorter parents.
Travel Convenience Features
The Graco Jetsetter has a lot more convenience features than most ultra-light strollers we reviewed. Weighing in at only 14 pounds, this stroller can be folded up with only one hand and is able to stand upright even when folded. There is also a convenient handle and a shoulder strap for easy carrying. Parents we spoke to also appreciated the included carrying bag for travel as well as storage.
Safety
The Jetsetter's emphasis on portability does not mean that they neglected safety. The lightweight aluminum is surprisingly sturdy, and the combination of a height-adjustable harness, calf support, arm bar, breaks, and a canopy will keep your baby safe throughout all your journeys.
Verdict
With a great price, excellent features and good performance, the Graco Jetsetter is an excellent choice for parents who are looking for an ultra-lightweight stroller that folds up easily and has lots of features that make travel easy.
Pros
Ultra-lightweight design weighs less than 14lbs

Large storage basket

Easy to fold with one hand

Filled with safety features

Compatible with any Graco Quick Connect car seat
Cons
The height of the handle is not adjustable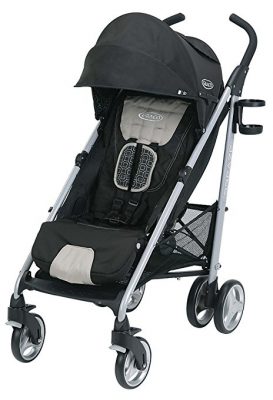 Why we like it:
A perfect accessory for traveling anywhere that you might expect rain, the Graco Breaze Click is lightweight, portable, and converts into a travel system for small babies.
Editor's Rating:
Weight Limit: 50 lbs
Assembled Dimensions: 27.5"L x 20"W x 40"H
Folded Dimensions: 16"H x 11.5"W x 43"D
Performance
If you want a versatile travel stroller, this could be the one that makes your life easier. The Graco Breaze uses a sturdy frame which can carry infants and kids weighing up to 50lbs. It has a one-hand fold mechanism meaning you will be able to store it compactly when you are short on space in the trunk.
You can take a car seat and attach it to the base of the stroller for a smooth transition. It makes it easy to take the youngest member of your family on long trips, especially if they are not of age to sit up properly. And if your toddler is over six months old, they will enjoy the view from the high seat.
The seat can also recline to provide different sitting or napping positions. It becomes a necessary item when you have a kid that cannot walk long distances or when it's their nap time, and you have not yet gone back to the hotel.
Functionality
This unit is highly maneuverable. It comes with front-swivel wheels. that allow you to make swift turns, and you can even lock them when the ground is uneven. You will also appreciate the suspension system so that your baby does not feel every bump in the road.
Safety
As well as keeping your toddler dry, the canopy has UV 50 protection to help keep them safe from sunburns when you visit a hot climate. It includes a visor which gives maximum coverage for your young tot. The wheels are lockable, the car-seat connection is very secure, and the padded harnesses will keep your child both safe and comfortable.
Verdict
Graco Breeze gives you the confidence to take a toddler for long trips. The stroller is foldable, reclines, and the wheel system can face up to rough roads. With the padded handlebars, you will always feel comfortable no matter how far you have to push the stroller during your adventure.
Pros
3 or 5 point harness

Multiple positions reclining seat

Front wheels with suspension are lockable

Provides secure car seat connection

UV 50 extra-large canopy
Cons
The storage basket is not easily accessible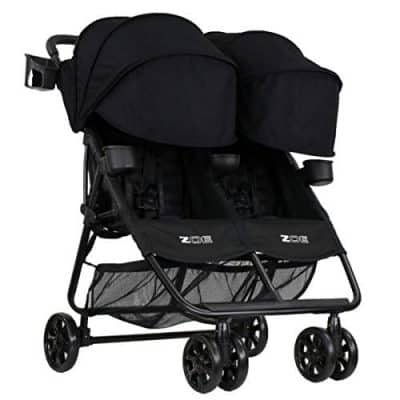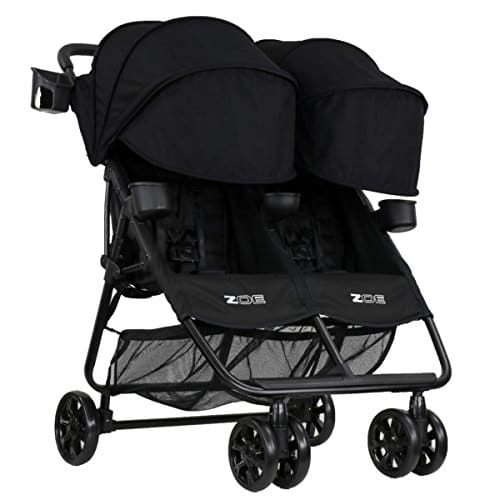 Why we like it:
Plenty of bells and whistles to make traveling with twins less of a hassle. The stroller is not only easy to use, but it also is built of high quality.
Editor's Rating:
Weight Limit: 50 lbs
Assembled Dimensions: 33" x 29" x 40.2"
Folded Dimensions: 28"H x 29"W x 9"D
Performance Features
Every parent who has twins craves to own a lightweight double stroller. Well, ZOE XL2 makes it all possible. This side-by-side stroller offers more convenience than you would ever get with other twin strollers. First, it weighs only 16 pound,s which is close to what single strollers weigh. Secondly, it has a double-wheel system which makes maneuverability a breeze—except on rough terrain, where they tend to get stuck more often than single wheels.
The stroller can fold to a compact size that can comfortably fit in the trunk of a vehicle. You'll love that you just have to pull on the straps of each seat and the stroller collapses and locks itself. Luckily, you don't have to support it once it is folded because the wheels can provide enough support for the frames once you face them in the right direction.
Storage
The model includes dual storage pouches to house important items like your phone and car keys. You will also get supplied with two cup holders so you can enjoy a cold drink while watching the sunset on a beach somewhere across the country.
Comfort and Safety
The ZOE XL2 stroller has reclining seats. If your kids take a nap now and then, you can enjoy the convenience it brings when you are at the zoo, and one baby wants to sleep while the other wants to stay up longer. It also comes with a 5-point harness which ensures the appropriate safety. On top of that, it's suspension system keeps your toddler from bouncing around, while the canopy protects them from the sun's harmful rays.
Verdict
When you have two kids, you will want the smoothest ride during your travels. ZOE XL2 is incredible in that it has excellent features including a large weight capacity for older kids, extra storage space, individual 4-panel canopies, and a big storage basket underneath the seats.
Pros
Folds quick and frame stands alone in the folded position

50lbs weight limit on each seat

Front wheels have a suspension for a smooth ride

Wide canopy
Cons
The wheels are not made for rough terrain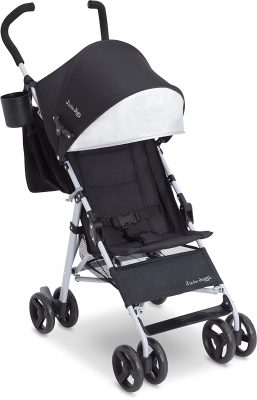 Why we like it:
Just like the rugged vehicle by the same name, the Jeep North Star Stroller is a great choice for your family's next adventure.
Editor's Rating:
Weight Limit: 40 lbs
Assembled Dimensions: 42" x 31.5" x 18.1"
Folded Dimensions: 42" x 15.5" x 12"
Performance Features
Since 1941, the iconic Jeep all-terrain vehicle has earned a reputation for providing unparalleled freedom, so it's no surprise that the North Star Stroller is also a hit with families on the go. Jeep owners will be happy to know that the same style and spirit of adventure are alive and well in this travel stroller. At only 11 pounds, the North Star Stroller is one of the lightest travel strollers we looked at, but it's incredbily rugged and stable despite its light weight.
Despite it's strength, this stroller is quite compact when folded up. We were also impressed by how well this stroller handles, thanks to the front swivel wheels and the suspension system. There is plenty of padding in the seat making for a comfortable ride. The only drawback we found with this stroller is that it only accommodates children up to 40 pounds.
Travel Convenience Features
The most unique convenience feature found on the Jeep North Star is the removable organizer with a handle. There is also a large mesh pocket for storage and long foam handles for comfort while pushing. The Jeep North Star Stroller is very light and is great for the airport.
Safety
So long as you don't exceed its weight limit, the Jeep North Star will have no issues keeping your child safe. It's JMPA certified, so you know that it's well-built, and the safety harness, sun canopy, and calf support will do wonders at keeping your child in position.
Verdict
The Jeep North Star Stroller is a light, affordable option for parents looking for a travel stroller. It has some great features and performs very well in a variety of situations, but its relatively low weight limit keeps it from being our top pick.
Pros
Swivel wheels and suspension system for a smooth ride on many terrains

Great value

One of the lightest travel strollers we reviewed

JMPA certified for safety
Cons
40-pound maximum weight limit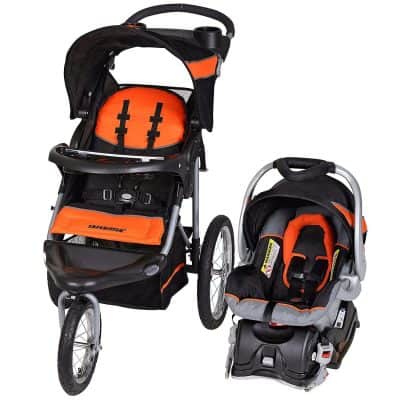 Why we like it:
Complete with a high-quality jogging stroller and infant car seat, the Toddler Trend Expedition Jogger Travel System is a great all-in-one option that will last your baby for years.
Editor's Rating:
Weight Limit: 50 lbs
Assembled Dimensions: 48" x 23.5" x 40.5"
Performance Features
Because it features a full-sized jogging stroller, the Toddler Trend Expedition Jogger Travel System is one of the heavier travel strollers we reviewed, but the additional functionality as a jogging stroller is a big deal for parents who want to keep their active routines when away from home. The tires are large, bicycle-quality and let the stroller glide over all kinds of terrain smoothly. The front-wheel swivels for easy maneuverability but locks in place for jogging.
The Toddler Trend Expedition Jogger Travel System comes with an infant car seat with a 5-point safety harness and a base that allows the seat to be transferred easily between the car and stroller, locking securely in place in both.
Travel Convenience Features
While this is one of the larger options for travel strollers, there are still plenty of features that make travel easier. There is a parent tray with two cup holders and two large areas for storage. The stroller folds up exceptionally well considering the large frame and wheels.
Safety
The jogging stroller features a lightweight steel frame that is sturdy and shock absorbent. There is also an adjustable canopy to protect your baby from harmful UV rays. The all-terrain wheels should keep the stroller stable even on bumpy terrain, and the five-point harness and absorbent foam will keep your baby stable, too.
Verdict
Because they must be safe at higher speeds, jogging strollers are usually heavier than other types of strollers. This means that this stroller is less portable than some others we reviewed. However, for parents who want to jog with their babies when on vacation or away from home, the additional hassle of taking this larger stroller along may be worth it.
Pros
Large wheels make for a smooth ride

Jogging stroller and car seat for one low price

Provides a safe and comfortable ride for your little one

Infant seat effortlessly moves between car and stroller
Cons
Heavier than most travel strollers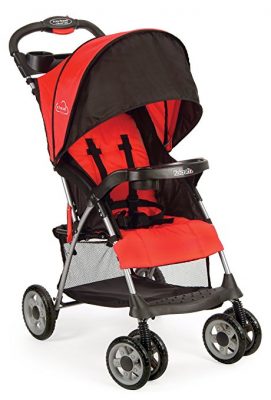 Why we like it:
Suitable for both short and extended car trips. The stroller folds more compactly than other products in its category. It is also extremely affordable.
Editor's Rating:
Weight Limit: 40 lbs
Assembled Dimensions: 17.6" x 29.9" x 41.7"
Folded Dimensions: 18"W x 12"D x 34"H
Performance Features
The Kolcraft Cloud Plus is for the mum or dad who likes taking road trips. It features a lightweight design yet can still accommodate kids up to 50 lbs. The one-hand folding mechanism is easy to employ makes the Cloud Plus a high-quality self-standing stroller for vacations. It has front suspension and thick-treaded all-terrain wheels, but their dual-wheel style means that they might get caught on rocks or other rough terrain.
The stroller is complemented by a wide canopy which includes a peek-a-boo window. It will allow you to quickly check to see how your child is positioned in the seat. What's more, the Kolcraft Cloud Plus has a seat that reclines to an ideal level for the baby's sleeping time.
An All-Day Storage basket
You may think that a storage basket adds to the weight of the stroller, but that is not true. The idea of carrying a bag while hauling a stroller is not ideal. However, with the Kolcraft Cloud Plus, you will be able to store diapers, wipes, and even toys to keep your bambino entertained.
Safety
This sturdy stroller will keep your little one safe from the ground up, with absorbant shocks and grippy wheels, a strong five-point harness, and an extended canopy to keep the sun at bay.
Overall
With a one-hold system and a light frame, you have a dependable stroller for an all-day trip. It is small and easy to navigate meaning you will quickly get through entrances. For the parent who wants a fun and smooth time in the outdoors, Kolcraft Cloud Plus has your back. Plus, it is one of the more affordable strollers on the market given all of its advanced features.
Pros
Folds into an ultra-compact stroller

Multiple-position reclining, padded seat

3-tier extended canopy with peek window

Front suspension

All-terrain wheel tread
Cons
Dual wheels might get stuck on rough terrain
Guide to Buying the Best Travel Stroller
Traveling with a toddler is can be overwhelming, but it is even more stressful when you don't take the right toddler gear. To make your trips with your little one more enjoyable, make sure you purchase a stroller that fits your own unique lifestyle.
Why should you travel with a stroller?
Strollers make traveling with kids easier
You will find that a stroller is invaluable when you travel to zoos and theme parks. If your baby needs to sleep, you won't be inclined to carry them on your back or use a carrier all day when walking for a long distance.
Travel strollers are also easy to transport on buses and other means of public transportation. They also fold compactly, so they will not take up much space in your hotel room, car, or when stored at home.
Effortless travel
When you have lots of luggage to bring, a stroller will help you know where your kid is, especially if they can walk and you can't monitor their actions every single second of the day. When you visit travel attractions, your hands will be free to take pictures, carry drinks, or use your phone.
Convenient if you can't carry your child on the back for long periods
When you have a bad back or your child is particularly heavy, a stroller will help you get them around with ease. You don't want a tired child throwing tantrums in the museum or train station when they could be resting in a stroller.
Types of Travel Strollers
Umbrella Strollers
Umbrella strollers like the Delta Children Stroller are among the most popular type of travel strollers. They are easily identified by the large canopy that serves to protect the baby from the outside elements, as well as the umbrella-type handles. These strollers also fold compactly and easily fit in the trunk. Umbrella strollers are typically lightweight, with most of them weighing around 12 pounds. The strollers are ideal for babies aged six months to 3 years because of their design.
Modular Systems
These multiple piece sets typically include a stroller and a car seat. The set allows you to snap in the car seat when traveling with an infant. The infant car seat attaches seamlessly to the stroller allowing you to take the toddler in and out of the car without waking them up. However, modular strollers are generally more costly and bulkier than other travel strollers. For a great modular stroller, we recommend the Evenflo Pivot Modular Travel System.
Frame Strollers
Frame strollers like the Graco Breaze are designed to be used in conjunction with a car seat — so make sure you buy a good one. They have storage underneath with all the other features of a travel stroller except for a seat. These strollers offer parents the ability to carry their babies in the ideal reclined position provided by car seats.
Factors to Consider When Choosing a Travel Stroller
Quality of the Frame and Fabric
Your child can sit for hours in a stroller. As a result, you will want them to be fully comfortable on a stroller with a well-padded seat. It also helps if the frame is robust and corrosion-resistant, since you will want the stroller to last as the baby grows. In order to achieve comfort, you'll want to look for padded seats, padded handles, adjustable handlebars, and even cup holders.
Safety
Safety is always a vital factor as it contributes to the comfort of you and your child. Look for adequate locks and brakes for improved stability. Some models will have a foot brake and a lock while others will only feature a lock. Also, don't forget to make sure the sides and harnesses look and feel secure to prevent your child from slipping out of the stroller.
Ergonomics
Pushing a stroller that is too short can leave you with an achy back. One that is too tall is difficult to handle for shorter parents. The best travel stroller will have telescopic handles or represent the ideal height for most people's torso. It is not always easy to identify the right size yet the gb Pockit seems to have achieved a balance for everyone with their stroller.
Age of your kid(s)
Of course, you will want the stroller to be suited to the age of your baby. You don't want to use a model that does not have adequate support for your 2-year old if it has a maximum load for a 1-year old child. You'll want to check the specifications even as you factor in the other features.
Another thing to bear in mind is that if you are traveling with a newborn or infant, the stroller will need to accommodate a small toddler. Strollers that can adapt to a car seat like the Baby Trend Snap and Go or Evenflo Vive Travel System are nice options.
Here's a video on how to assemble the Baby Trend Snap and Go.
What kind of trip are you taking?
If you are going on a road trip, size is not a huge restriction so long as it fits in the trunk of a vehicle. But for flights, you will want the smallest possible stroller that can easily get checked on the airplane. If you want to ensure that you can handle anything life throws at you, Evenflo's modular stroller system is your best bet.
Here are some more tips on how to handle your stroller during air travel.
Price
Travel strollers are priced according to their size, quality, and features. Small and lightweight models are common. The difference in price depends on features like suspension wheels, ease of folding, aluminum frames, adaptability to infant car seats, and the ability to change where the baby is facing. As a result, prices vary sharply. All of the strollers on our list are reasonably priced, but particularly budget-minded parents should check out the affordable Summer Infant travel stroller.
Final Words
In the end, it is impossible to match the flexibility, convenience, and accessibility of a lightweight yet durable travel stroller.Having the ideal travel stroller removes much of the anxiety of traveling with a baby. Even those who love using carriers will appreciate the convenience brought about by being able to rest and relax, safely bringing your baby with you on your travels without having the carry them everywhere.