For families on the move, the right stroller can be the difference between a successful outing and a total disaster. Families come in all shapes and sizes and so do strollers. With lots of options, there is a perfect stroller for every family, no matter where they are headed. Unfortunately, with so many choices, shopping for a stroller for your new baby can be overwhelming. To help you find the best baby stroller for you, we reviewed every stroller we could find. Here is our list of the best toddler strollers for 2021.
Features to Consider in Good Toddler Strollers
Because every family has different needs when it comes to strollers, there is no one-size-fits-all solution that works in every situation. In order to find the best stroller for you to buy, you'll want to have an idea where you will be headed and what you'll need when you get there. Active parents who want to jog with their scooters will want to pay attention to performance and every parent will want to look at the convenience features each stroller offers.
What to Look for in a Toddler Stroller
With so many different options, it's easy to be overwhelmed by the number of baby strollers available online. Here are the factors parents should consider before settling on which stroller to buy.
Number of Kids
Most strollers only allow for one rider, but some on our list can carry 2 kids at once. Larger families should also look for strollers with more room for storage.
Cost
We like good value. It's okay to pay a little more for quality or features that you like. However, in order to make our list, a stroller must be sold at a fair price for what you get.
Where Are You Headed?
More important than any other factor when picking out a stroller, having an idea of where you will be taking it is key to making your decision. If you are going to be going on long walks or runs, you'll probably want to look at a jogging stroller. On the other hand, if you do a lot of travel by air, you'll probably want a great travel stroller. Most parents end up buying two or three strollers in order to be ready for any situation.
Types of Strollers
Most strollers fall into one of a few different categories. Understanding the differences between them will help you be an informed shopper.
Jogging Strollers: Not just for runners, jogging strollers offer the best performance when getting around. These strollers offer larger wheels and better suspension systems to provide a smooth ride, even at higher speeds.
Full-Size Strollers: This is what most parents picture when they think of a traditional stroller. These traditionally come with lots of storage for diaper bags and other convenience features
Travel Strollers: For families on the go, travel strollers are light and portable to make life easier. Most travel strollers fold up to be as compact as possible.
Modular Strollers: Some strollers allow parents to quickly snap their infant's car seat into place to make getting in and out of the stroller a breeze.
Double Strollers: For families with multiple little ones, these strollers allow multiple kids to ride. Double strollers are especially perfect for families with twins.
Now that you have a good idea of what you should be looking for, here are our top picks for strollers in 2021.
Top 10 Best Toddler Strollers 2023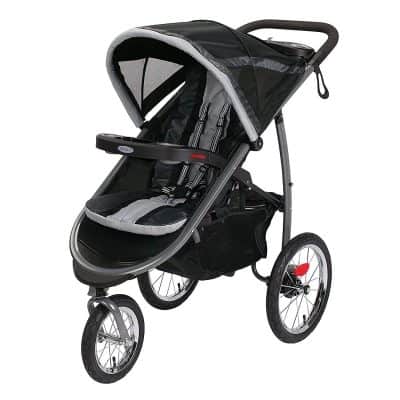 Why we like it:
A great stroller for jogging or everyday use, the Graco FastAction Fold Jogging Stroller offers the perfect mix of performance and features for any family.
Editor's Rating:
Weight Limit: 50 lbs
Assembled Dimensions: 40" height, 24" width, 14" seat depth
Folded Dimensions: 39" height, 23.6" width, 15.3" depth
One of our favorite strollers for active parents, the Graco FastAction Fold Jogging Stroller can be used by itself or can accept any Graco infant car seat. We were impressed by how well this stroller combines many convenience features found on standard strollers with the performance of a top-notch all-terrain jogging stroller.
While the stroller is a little bit bulky during travel, once you reach your destination and get it out of your trunk, it will be ready to go in seconds. Putting the stroller away is just as easy and it's where the FastAction Fold stroller earns its name. After use, this stroller can be folded in just one second, using only one hand.
Performance
Like any good jogging stroller, the strength of the Graco FastAction Fold Jogging Stroller lies in its wheels. The three air-filled tires are light and agile for navigating any surface with minimal bouncing. This stroller performs great on all kinds of terrain.
Features
Parents who own a Graco car seat will love that it quickly and easily snaps into place on this stroller. In addition to the additional portability, also has several convenience features not found on many types of jogging strollers such as two cup holders and a well-placed cell phone mount.
Safety
Especially when combined with a Graco brand car seat, this jogging stroller is one of the safest available. Parents we spoke to had no concerns about using this stroller over rough terrain or at a high rate of speed.
Pros
Lightweight and portable

Folds in just one second

Works with all Graco infant car seats
Cons
Can be bulky when folded up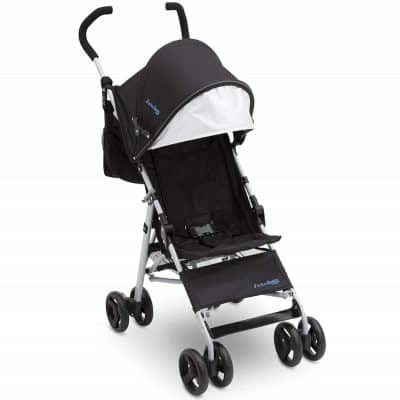 Why we like it:
As rugged as the vehicle that shares its name, the Jeep North Star Stroller is an amazing value for parents looking for adventure.
Editor's Rating:
Weight Limit: 40 lbs
Assembled Dimensions: 42" height, 31.5" length, 18.1" width
Folded Dimensions: 42" length, 15.5" width, 12" depth
When most parents think about a Jeep, they usually think of the automobile instead of a stroller. Some parents are surprised to learn that Jeep also makes products for kids. Fans of the sport utility vehicles will be happy to learn that Jeep's unique style and sophisticated features translate well to their North Star Stroller.
At just over 11 pounds, the Jeep North Star Stroller is one of the lightest strollers we reviewed, it also folds down to a very compact size for transport. There are several other features making this stroller ultra-useful for families on the go like a removable parent organizer and extra-long foam handles. Because of the compact size, however, this stroller does not perform as well with older kids and has a low maximum weight limit of 40 pounds.
Performance
Since building their first vehicles in 1941, Jeep has built an excellent reputation for providing customers with the freedom to explore. That spirit is alive and well in the North Star Stroller. With front swivel wheels and a great suspension system, this is an excellent stroller for exploring off the beaten path.
Features
We liked how the mesh back on the seat of the stroller creates good airflow and keeps babies comfortable in any kind of weather. There is also plenty of padding in the seat. For parents, the Jeep North Star Stroller includes a handy organizer that can be removed. The foam handles are very comfortable.
Safety
The Jeep North Star Stroller features a three-point safety harness and is JPMA certified. Parents should note the stroller only has a maximum weight limit of 40 pounds.
Pros
Great performance at an excellent price
Comfortable padded seats and mesh back for comfort
Lightweight and portable
A suspension system for all kinds of terrain
Cons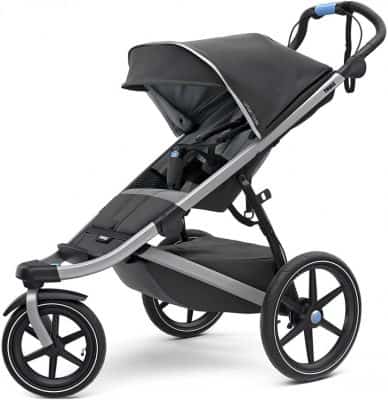 Why we like it:
The best performing jogging stroller we reviewed, jogging with the Thule Urban Glide 2 stroller is like running on air.
Editor's Rating:
Weight Limit: 75 lbs
Assembled Dimensions: 40" height, 41.1" length, 27.2" width
Folded Dimensions: 13.4" height, 22.8" length, 34.3" width
Available in both single and double rider versions, the Thule Urban Glide 2 is a great premium stroller for parents who love to run. Featuring three large 16" wheels with a suspension system, the Urban Guide 2 stroller navigates any terrain smoothly, even at high speeds.
In addition to professional performance, there are also several features that provide excellent comfort, convenience, and safety. The seat reclines, there is plenty of storage in the zip-top cover and multiple mesh pockets and it has a protective canopy that can be positioned in multiple ways to protect your baby from the elements and keep them comfortable.
While the Thule Urban Glide 2 Jogging Stroller is one of the most expensive jogging strollers on the market, the added features and improved performance make it a great value for parents who are serious about running.
Performance
The Thule Urban Glide 2 is the best performing jogging stroller we reviewed. The huge wheels and great suspension let this stroller glide effortlessly over all kinds of terrain, even when running.
Features
In addition to 4 pockets and baskets providing ample storage for active parents on the go. We were impressed by how well the integrated hand brake allows joggers to control the speed of the stroller and keep control even when running downhill.
Safety
The Thule Urban Glide 2 is designed to keep your toddler safe, even when traveling at higher speeds. The suspension on this stroller keeps the ride smooth while the adjustable, padded 5-point harness keeps baby securely in place.
Pros
Best high-performance jogging stroller
Available in single and double versions
Integrated hand brake provides speed control on hilly terrain
75-pound maximum weight limit
Cons
One of the heavier strollers we reviewed
Premium price points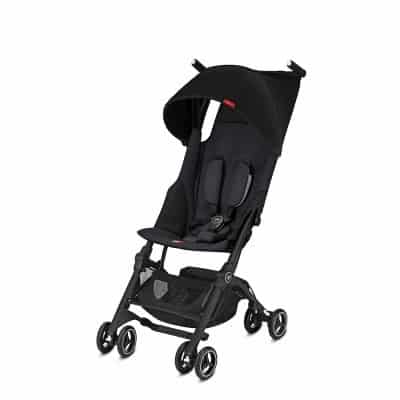 Why we like it:
All the convenience of a full-sized scooter in a tiny package, the gb Pockit+ is our favorite ultra-light travel stroller.
Editor's Rating:
Weight Limit: 55 lbs
Assembled Dimensions: 39.8" height, 28" length, 18.5" width
Folded Dimensions: 7" height, 14" length, 12" width
The gb Pockit+ Lightweight Toddler Stroller is our favorite ultra-lightweight scooter. At under 10 pounds, this scooter is durable enough for everyday use but folds up in a very compact way for storage or travel. It also has a higher maximum weight capacity than many much larger scooters that we reviewed.
While the gb Pockit+ Lightweight Toddler Stroller comes at a premium price point, parents we talked to told us they were happy with their purchase because of the additional features and superior performance offered in this package. Even though it folds down to be very compact for travel or when not in use, the gb Pockit+ unfolds to reveal a sun canopy with UPF50+ protection, a roomy storage compartment and a comfortable, reclining seat with a padded 5-point harness.
Performance
Great for hikers or joggers, the flexible construction of the Pockit+ stroller allows active parents to take their little ones on adventures across all kinds of terrain. The front wheels swivel well and provide excellent control. The front wheels also have wheel locks that make it easier to navigate uneven terrain.
Features
The gb Pockit+ packs an impressive amount of features into its ultra-light and compact design. With handles that make it easy to push using only one hand, this stroller is also equipped with a large storage compartment and a sun canopy.
Safety
In addition to the adjustable harness, the gb Pockit+ Lightweight Toddler Stroller features a sun canopy with UPF50+ protection against harmful UV rays. The shock absorption of the lightweight frame makes this our favorite travel stroller for uneven terrain like cobblestones.
Pros
Best premium travel stroller
Weighs under 9 pounds and folds up into a more compact form than any other stroller we reviewed
Excellent performance on rough terrain
Cons
More expensive than other lightweight baby strollers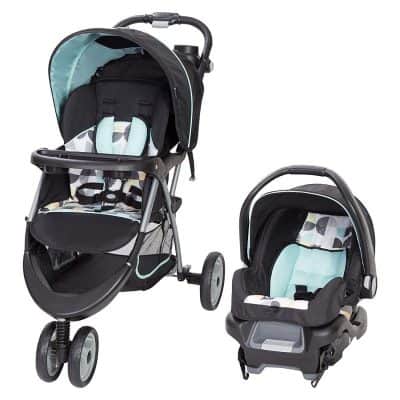 Why we like it:
Allowing parents to seamlessly transition their infant from car seat to stroller, the Baby Trend EZ Ride 35 is a stroller and car seat bundled together at a very low price.
Editor's Rating:
Weight Limit: 50 lbs for stroller, 35 lbs for car seat
Assembled Dimensions: 42.5" height, 42" length, 25" width
Folded Dimensions: 23.5" height, 40" length, 14" width
Including two essential items for new parents, the Toddler Trend EZ Ride 35 Travel System is amazing value. This set includes the EZ Ride Stroller as well as the Ally 35 Car Seat for infants. Being able to effortlessly lift your baby carrier out of the car seat base and snap it conveniently into the stroller makes trips with your baby easier and drastically reduces the amount of time spent getting your little one buckled up.
While many of the strollers on our list are compatible with infant car seats from the same manufacturer, the cost of buying the individual components will likely cost you 2 to 3 times the cost of the EZ Ride 35 Travel System.
Performance
Thanks to the ergonomic handle and dual front wheel, this travel system is easy to push and provides a smooth ride for the toddler in the stroller. One thing to note is the stroller can only continue to be used by children until they are 42" tall.
Features
The EZ Ride 35 Travel System provides a ton of features usually reserved for premium toddler strollers like an adjustable handle, canopy with viewing window, covered parent tray with cup holder, and a large storage compartment underneath the seat.
Safety
Featuring a five-point adjustable harness, the EZ Ride 35 Travel System keeps your toddler safe while in the car or in the stroller.
Pros
Great infant car seat and stroller for one low price
Lots of features normally only found on premium strollers
Ergonomic handle
Easy to navigate
Cons
The car seat is rear-facing only and is only appropriate for infants.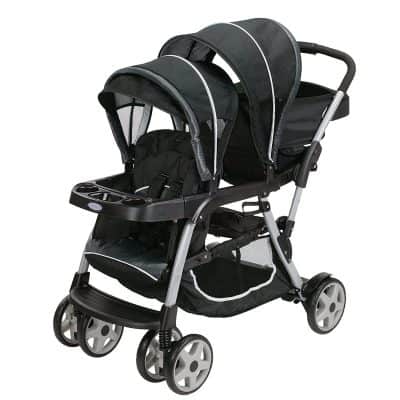 Why we like it:
A lifesaver for large families, the Ready2Grow LX Double Stroller is our favorite option for families who need a stroller for more than one small child.
Editor's Rating:
Weight Limit: 50 lbs for front/bench seat, 40 lbs for rear seat
Assembled Dimensions: 45" height, 42" length, 23.5" width
Folded Dimensions: 52.2" height, 21" length, 23.5" width
Ideal for families with more than one young child, the Graco Ready2Grow LX Double Stroller is a godsend for parents of twins. With several different configurations for both seats including forward-facing, rear-facing, and standing, there are options for every combination of two kids under 50 pounds. The Ready2Grow is also compatible with Graco's SnugRide Infant car seats for additional flexibility.
We talked to lots of parents with multiple young children at home who say that this stroller is a lifesaver. They also appreciate the smooth ride thanks to the front swivel tires and suspension. The stroller is easy to push and it comes with lots of additional storage room for growing families on the go. The rear seat can be removed to create standing room for kids or additional storage space.
Performance
The Ready2Grow has room for 2 riders, but it handles and turns like a much smaller stroller. We were also impressed by how easily this stroller glides when pushed. The suspension on the front wheels makes the ride smooth for babies even over rough terrain.
Features
With over 12 riding options for any situation, the Ready2Grow stroller has you covered in any travel situation you may find yourself in. There is also a cup holder, a large storage basket and a tray for both parent and riders.
Safety
The front wheels lock securely in place for safety to prevent the stroller from rolling when parked. The ability to combine this stroller with Graco's SnugRide car seats lets you transition between car and stroller quickly and safely.
Pros
Room for two children under 50 pounds in twelve different configuration options
Best baby stroller for twins
Excellent suspension for a smooth ride
Cons
At 34 pounds, the Graco Ready2Grow stroller is one of the heaviest strollers we reviewed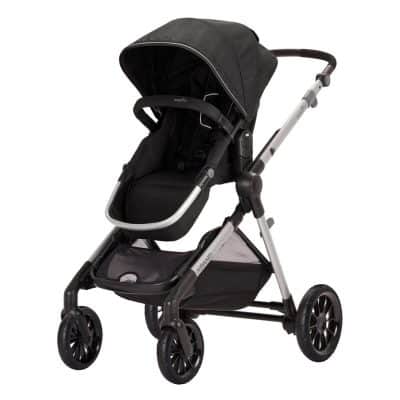 Why we like it:
The Evenflo Pivot Xpand Modular Stroller transitions from a single to a double at a moment's notice.
Editor's Rating:
Weight Limit: 55 lbs
Assembled Dimensions: 41.5" height, 34" length, 26.5" width
Folded Dimensions: 31.5" height, 26.5" length, 18.5" width
The Pivot Xpand Modular Stroller from Evenflo looks like a regular stroller at first glance, but thanks to its unique slide-and-lock functionality, it quickly transforms into a double stroller to accommodate a second toddler seat or infant car seat. While the second seat must be purchased separately, this is a great stroller for any parent who needs to effortlessly convert their scroller from a single to a double.
The Evenflo Pivot Xpand is one of the lightest modular strollers we reviewed but has one of the highest weight capacity for riders. We liked that converting the stroller from single to double using the slide-and-lock system was quick and easy, requiring no additional tools. The Pivot Xpand is a little more expensive than other strollers we reviewed, but most parents we talked to told us that this stroller is well worth the extra money.
Performance
Unlike many strollers that have room for two riders, being able to convert into a smaller single stroller allows parents to have more maneuverability when the extra seat is not needed. The stroller is easy to steer, but we heard from parents who were concerned about the durability of the wheels, with some having to contact Evenflo for replacement wheels after only about a year of use.
Features
Especially when combined with an infant car seat, the Evenflo Pivot Xpand Stroller is one of the most versatile strollers we reviewed. Our favorite feature is the slide-and-lock system that gives parents most of the benefits of a single stroller. The stroller is light and folds up compactly to fit in any trunk easily.
Safety
The Evenflo brand has been trusted by parents for nearly 100 years. This stroller is perfectly safe when using the included infant seat or with an infant car seat attached.
Pros
The unique slide-and-lock system allows parents to switch between a single and double stroller effortlessly
Folds up compactly
Large basket underneath for storage
Cons
The wheels are more susceptible to wear and tear than other strollers we reserve
Parents can pinch their fingers when folding if not careful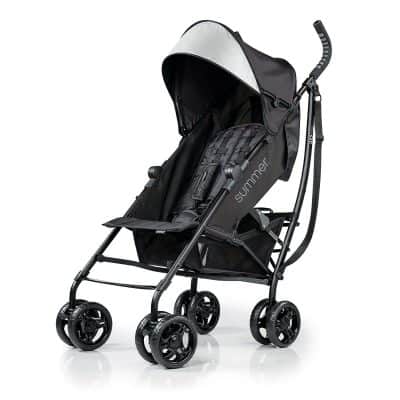 Why we like it:
With an ultra-light frame and massive storage capacity. The Summer 3Dlite Convenience Stroller keeps your baby safe and your things organized.
Editor's Rating:
Weight Limit: 50 lbs
Assembled Dimensions: 42.5" height, 33.5" length, 19.5" width
Folded Dimensions: 42" length,12" width, 11" height
Thanks to the light aluminum frame, the Summer 3Dlite Convenience Stroller is one of the most versatile travel strollers we reviewed. Including three height positions which means you can adjust it to your child as they grow and an adjustable visor to help shield the rider from harmful UV rays, this is one of our favorite strollers for a long walk on a sunny day.
The perfect airport stroller, the Summer 3Dlite unfolds to reveal a large reclining seat and a storage basket with plenty of space for diaper bags and other toddler essentials. Parents appreciate the extra safety provided by the five-point safety harness but would have liked a tray for the toddler to be included with this model. Aftermarket trays do not work either as there is no place for them to attach.
Performance
Great for airports and theme parks, the Summer 3Dlite Convenience Stroller glides effortlessly on smooth surfaces but there are much better options for navigating bumpy terrain and trails.
Features
In addition to a massive storage compartment underneath the seat, there is an adjustable canopy that blocks UV rays and can be removed. When folded up, the stroller is very light and barely larger than an umbrella.
Safety
The large reclining seat holds your toddler in place with a 5-point harness. The seat is also well padded and easy to recline. The rear wheels lock when not in use.
Pros
Perfect for the airport, theme parks or the beach
Removable visor provides protection from harmful UV rays
Light and very compact when folded
Good value
Cons
Shock absorption is not as good as other models. Best when used on smooth surfaces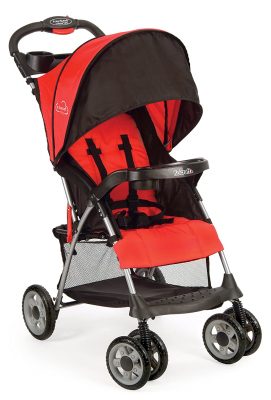 Why we like it:
With tons of features in a tiny package, the Kolcraft Cloud Plus is our top choice for any situation with stroller size restrictions.
Editor's Rating:
Weight Limit: 40 lbs
Assembled Dimensions: 41.7" height, 29.9" length, 17.6" width
Folded Dimensions: 34" height, 18" width, 12" depth
Many theme parks, including the Walt Disney parks, place tight restrictions on the size of strollers allowed. We found that the Kolcraft Cloud Plus packs so much usability in a tiny space that it helps parents feel prepared for anything while satisfying the most stringent size requirements.
The Cloud Plus is appropriately named as well, weighing an impossibly light 11.8 pounds. We were also very impressed with how convenient this stroller is to fold. Not only does it only take one hand to get the job done, but the Cloud Plus continues to stand upright even when folded up. Even with the compact frame, we were pleasantly surprised by how large the storage compartment under the seat.
Performance
The compact design of the Kolcraft Cloud Plus combined with the nimble all-terrain wheels give this stroller an excellent turning radius and they allow it to be pushed with minimal effort. We heard from several parents who told us that this stroller saved their back during long days at Disney or other amusement parks.
Features
The Kolcraft Cloud Plus Lightweight Stroller has a reclining seat to keep baby comfortable. There is also a canopy that keeps the seat cool and blocks UV rays. The parent tray is well-designed, offering a place to hold two drinks as well as a storage area for things like keys, wallets, and phones.
Safety
The 5-point safety harness is fully adjustable to keep babies of all sizes firmly in place. This lightweight stroller is suitable for use by babies up to 50 pounds.
Pros
Best toddler stroller for Walt Disney Parks
Compact and lightweight design
Folds up with one hand and remains standing while folded
Cons
Cannot be used with any infant car seats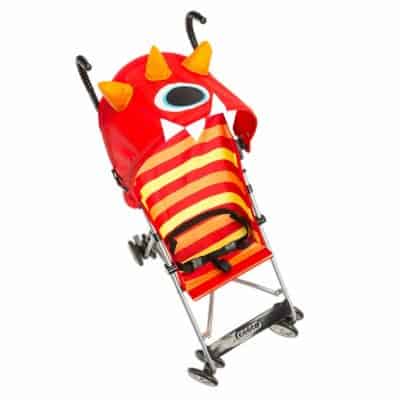 Why we like it:
With unforgettable and adorable styling, this lightweight stroller is great value.
Editor's Rating:
Weight Limit: 40 lbs
Assembled Dimensions: 37.5" height, 31.25" length, 16" width
Folded Dimensions: 40.25" height, 6" length, 6.75" width
One of the least expensive strollers on our list, this Cosco Umbrella Stroller is a bare-bones stroller with a colorful monster theme that kids will love. Best for short walks or trips to the store, the linen seat provides a comfortable place to sit while securing your baby in place with a 3-point safety harness.
Cosco has built a great reputation by making quality children's products ranging from car seats to high chairs for over 70 years. While this stroller lacks many of the features and storage found on more expensive models, you can be sure that the Cosco Umbrella Stroller is perfectly safe and comfortable for your little one.
Performance
The Cosco Umbrella Stroller works best for short trips on smooth surfaces. This is an ideal second stroller for families looking for a lightweight alternative for travel or out shopping. The wheels are smooth and durable but lack some of the shock absorption found in more expensive models.
Features
This is a basic stroller without very many additional features. While it is light and folds up to be very compact when it's not in use, it lacks basic features found in other strollers like cup holders and storage space.
Safety
The Cosco Umbrella Stroller is JPMA certified and includes a 1-year warranty on all parts included. Your baby is held securely in place by a 3-point harness.
Pros
The least expensive stroller we reviewed
Weighs less than 8 pounds
Colorful monster theme
Cons
No storage or cup holders
Harder to steer compared to other strollers we reviewed
Guide to Buying the Best Toddler Strollers
Helping Your Toddler Get Used to Their New Stroller
Okay, so imagine that you've found the perfect stroller for you. It has plenty of storage for your purse, keys and diaper bag and all the features you need for the perfect day out with your baby. But as you're buckling your little one into the seat to go on your first adventure, they begin to fuss and wail until you take them out. Unfortunately, this happens to many babies the first time they are placed in a stroller and can continue to be a problem if not handled correctly. Here are some tips for helping your toddler love their new stroller.
Don't give up! Just because your toddler does not like being placed in the stroller at first is not a reason to avoid it altogether. It is normal for babies to feel anxiety when riding in a stroller at first.
Lots of parents who have toddlers suddenly decide they no longer like riding in their strollers. When this happens, it's advisable to let them walk if possible and then try the stroller again when they get tired.
Making Sure Your Stroller Is Safe
Because they carry precious cargo, it's very important that any stroller you intend to use is as safe as possible. Strollers that are not made according to recommended guidelines or have degraded with excessive wear and tear can turn into safety hazards and cause serious injury. Here are some things you should know about stroller safety.
Check the brakes. Usually located on the rear wheels, the wheel locks are an important safety feature of most strollers. Being able to let go and trust that the stroller will not roll away is crucial to a safe ride for baby. You should regularly check the brakes before using the stroller. It's also important to make sure that the wheel locks don't trigger accidentally, as this could result in injury for the person pushing the stroller.
Don't forget about the sun. Babies have skin that is particularly sensitive to sunburn. This should be avoided at all costs. In addition to using sunscreen, we suggest using a stroller with a canopy on sunny days, especially during long periods. Some canopies appear to block the sun but lack the proper protection from harmful UV rays. It's important to find a canopy that blocks UVA and UVB rays.
Watch for pinches. One often overlooked cause of stroller related injury is pinched fingers and toes. Before using a new stroller, you should check all hinges and edges for places where you or your toddler could be pinched.
Don't try to "mix and match." Some models of strollers are designed to work with certain toddler seats. It's important to try to use compatible toddler equipment. The last thing any parent wants is to see their baby fall off of a stroller because their seat was not fastened securely. Cross-reference the specific model number of your stroller and car seat to make sure your car seat and stroller together.
Check the harness. As babies get older, they can become more adept at wriggling out of their harness. This is why it is important to check harnesses regularly for any issues and to make sure your toddler is securely harnessed when riding in the stroller. You want to test any snaps and buckle to make sure they still fasten snugly and securely. In general, a five-point safety harness offers more protection than a three-point harness.
Watch for recalls. Because products for babies are constantly monitored for any safety issues that arise after use, it's important to make sure the products you are using have not been recalled. The best way to make sure you are notified if a product you have purchased is recalled is to make sure you fill out the registration card that comes with your scooter or to register it online.
Running or Jogging With Your Stroller
For active parents, jogging with a stroller is a unique way to exercise and spend time with your baby at the same time. A good jogging stroller has large wheels and a suspension that makes the stroller glide as smoothly as possible. This makes the ride comfortable for your baby as well as reduces the effort needed to push the stroller. Many distance races even allow you to compete while pushing a stroller. Here are some tips for running with your baby.
Do not try and run or jog using a normal 4-wheeled stroller. These strollers are not meant for high speeds and are likely to become unstable and tip. A jogging stroller has 3 wheels and is built for stability.
Make sure and use the wrist strap included with your jogging stroller that will keep it from getting too far away from you, especially when running downhill. Some jogging strollers have brakes located on the handlebar that make it easier to control the speed of your stroller whole running.
You should not start jogging with your toddler until they are at least 8 months old and are strong enough to hold up their own head. This way they will have a much easier time dealing with the bumps encountered while riding.
Remember to regularly switch hands on the handlebar in order to minimize strain on either arm. If you are running with a double jogging stroller, you will probably have to run with both hands on the handlebars at most times.
Some 5K and 10K races will allow you to run with your toddler in a jogging stroller. This information is commonly listed on the race webpage.
Stroller Maintenance and Cleaning
Before using any scooter, make sure you read the instruction manual provided by the manufacturer. Here is where you will find any specific instructions for the care and cleaning of your scooter. Here are some more tips on keeping the various parts of your stroller in good condition.
Cleaning the Seat
Many strollers make cleaning easier by having removable fabric covers on the seat while others require spot cleaning. Most removable fabric seats are even safe to throw in the washing machine. If the seat cannot be removed from the frame, the best plan of action is to use a vacuum attachment to clean out the nooks and crannies. To clean the fabric, you can use a soft washcloth or brush and warm, soapy water.
Maintaining the Frame
The frame holds the stroller together. It can also get very dirty and grimy over time. Especially for expensive high-performance strollers, parts like wheels and joints should be monitored regularly for signs of wear and tear. Remember, replacing a few parts over time can be way less expensive than buying a whole new stroller. To clean the frame, remove all detachable accessories and wipe using a soft washcloth. You can also use most all-purpose cleaners.
Cleaning and Maintaining the Wheels
Because they are your point of contact with the terrain, the wheels are the most important part of the stroller. No matter where you go, the wheels of your stroller will get dirty very quickly. That's why it's important to clean them regularly in order to keep your stroller in tip-top shape. If you've had to roll through mud, you may want to spray the wheels of your stroller with a hose before returning to the house. Many strollers also allow you to remove the wheels in order to clean and make sure the ball bearings are in correct working order.
There are several resources online for learning more about stroller maintenance.
Toddler Stroller FAQ
Q.What is the best stroller for Disney World?
A.Because of its compact size and large storage, we recommend the Kolcraft Cloud Plus Stroller for parents taking their babies to Walt Disney World.
Q.Can jogging strollers be used every day?
Q: How long can my baby ride in their stroller?
A: Most strollers we reviewed can safely carry babies who weigh less than 50 pounds. This means most babies will be able to use their strollers up until they turn about 4 years old.
Final Words
There are a great variety of toddler strollers out there. Some will suit parents on-the-go, others will be best for those taking long weekend walks in the park, and others will be perfect for travelling. The strollers on this list all serve different roles and all of them are the best out there on the market today. Enjoy browsing and getting the stroller your toddler and you will love and use for years to come.